Warcraft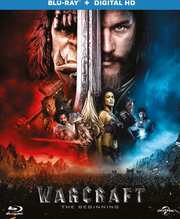 Certificate: 12
Running Time: 130 Mins
Retail Price: £12.99
Release Date: 10/10/2016
Content Type: Movie
Synopsis:
Duncan Jones co-writes and directs this big-budget adaptation of the 'Warcraft' franchise.

The fantasy adventure follows the initial encounters between the humans and orcs as Azeroth stands on the brink of war. When a dark portal is opened that connects the human-inhabited Azeroth with Draenor, home of the orc clans, the peace of both lands is disrupted.

The warring orcs, whose world is dying, travel to Azeroth to conquer the kingdom of King Llane Wrynn (Dominic Cooper), who must attempt to make peace with this hostile, destructive force. Leader of the human forces Anduin Lothar (Travis Fimmel) and his orc counterpart Durotan (Toby Kebbell) are sent to do battle in an epic clash which will come to shape the futures of their people and their worlds.
Special Features:
Deleted Scenes
Gag Reel
Origin Story
The Fandom of WARCRAFT
ILM: Behind the Magic of WARCRAFT

Bluray Exclusives:

WARCRAFT: Bonds of Brotherhood Motion Comic
The World of Warcraft on Film
The World of Talent
The World of VFX
Outfitting a World
The World of MOCAP
The World of Stunts
Madame Tussauds' Featurette
WARCRAFT Teaser

Related Websites:
https://www.uphe.com/movies/warcraft
http://www.universalpictures.co.uk/yours-to-own

Directed By:
Duncan Jones

Starring:
Travis Fimmel, Toby Kebbell, Ben Foster, Paula Patton, Dominic Cooper

Distributor:
Universal Pictures UK