The Hunger Games fires its way to Blu-ray, DVD and VOD in September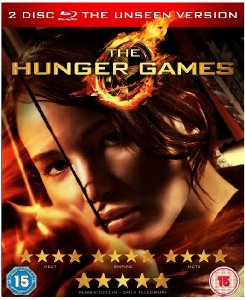 If you have been sleeping under a rock, which considering the world recession might be possible, then perhaps you havent' heard about
The Hunger Games
trilogy. The best selling novels by Suzanne Collins are what many kids and adults are raving about, in much the same way they did with Harry Potter, so it is inevitable that it made the big screen, and now thanks to
Lionsgate
on 3rd September slightly smaller ones inside the comfort of our homes.
Directed by Gary Ross, the high star-count cast includes Jennifer Lawrence, Donald Sutherland, Stanley Tucci, Woody Harrelson, Lenny Kravitz, Elizabeth Banks, Josh Hutcherson and Liam Hemsworth. And this is the first in a trilogy of books published by Scholastic that has already become a literary phenomenon with over 36.5 million copies in circulation. Arriving on DVD, Blu-ray, TVOD and download, the DVD will feature a Dolby Digital 5.1 audio track, whilst Blu-ray owners get a DTS-HD Master 7.1 track to enjoy. We aren't sure of the recommended retail prices, but expect a street price of £10 for the DVD and £15 for the Blu-ray.
Extras will include
The World is Watching
eight part documentary that covers the making of the film,
Game Maker: Suzanne Collins and The Hunger Games Phenomenon
featurette,
Letters from the Rose Garden
featurette with insights from Donald Sutherland,
Controlling the Games
featurette about the production design, interviews with Gary Ross and Elvis Mitchell, the
Propaganda Film
in its entirety, and a stills gallery. The Blu-ray also features
Preparing for the Games: A Director's Process
which looks at the progression of taking three key scenes from the book to the screen.
The Blu-ray will also get the 15 certificate cut of the movie, which was not shown in UK cinemas, so if your audience is going to be your younger children, you might want to get the DVD instead, and vice versa.
Synopsis follows...
Set in the future, one male and one female from each of the twelve districts of the nation is forced to participate in the annual competition called The Hunger Games, which is broadcast live throughout the country for the entertainment of the Capitol's wealthy residents.
Sixteen year old Katniss Everdeen (Lawrence) volunteers in her younger sister's place to enter the games, and is forced to rely upon her sharp instincts as well as the mentorship of drunken former victor Haymitch Abernathy when she's pitted against highly-trained Tributes who have prepared for these Games their entire lives. If she's ever to return home to District 12, Katniss must make impossible choices in the arena that weigh survival against humanity and life against love.