Review for Kikujiro
Introduction
"All good things come to those that wait," they say. It certainly turns out to be the case when it comes to Kikujiro. I first watched this film following one of those Jonathan Ross Japan love-fest documentaries, taping it (yes, videotape!) from BBC4. I loved the film, and the first thing I did was look up a DVD release. When I did eventually find it, it turned out to be a barebones disc, a letterbox transfer, with burnt in subtitles. The anamorphic video-recording turned out to have better resolution! I've actually since stuck to re-watching that, albeit transferred to DVD-R. All praise then to Third Window Films, who in the first quarter of 2016 are releasing three Takeshi Kitano features on Blu-ray, given the full restoration and spring-cleaning such films are due. Finally I get to see this film the way I always wanted to.
When it comes to feel-good movies, films that touch the heart and lift the spirit, Takeshi Kitano is probably not the first name that springs to mind. Associated mostly with the Japanese gangster genre in the West, audiences here are less aware of his broad range. But with Kikujiro, he creates a road movie that will leave a lasting impression, a tale of a wholly unconventional friendship.
Masao is a nine-year-old boy who lives with his grandmother. At a loose end for the summer holidays, he gets the idea of meeting his mother who moved away when he was a baby, not long after his father died. Masao is hardly worldly, and when his grandmother's friend rescues him from some bullies, she assigns her no-good gangster husband to escort him to his mother's town. Kikujiro begins by investing Masao's money at the local bicycle races. The two then set off on an unconventional trip, hitchhiking their way across the country, encountering a variety of strange characters.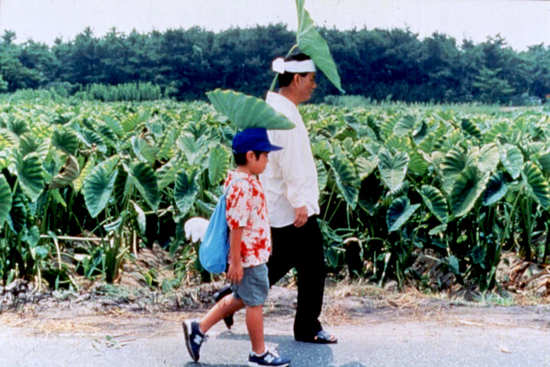 Picture
I can't explain how gratifying it is to see this film in 1080p resolution, 1.85:1 widescreen aspect ratio. Kikujiro looks fantastic; it's a film that really makes an impact in terms of composition and imagery, and the Blu-ray is the best I've ever seen it. That said, you do get the limits of the source material, which while the restoration has blessed it with a stable image, clean of dirt and print damage, it is comparatively soft, and reds can be a little oversaturated at times. That said, the film does deliver in terms of detail and clarity, and I was seeing things I had never seen before, most notably a tear on Masao's mother's face during the dream sequence with the Scary Man.
The images in this review were kindly supplied by Third Window Films.
Sound
The sound comes in DTS-HD MA 2.0 Stereo form, and the lossless audio certainly is a treat when it comes to Joe Hisaishi's whimsical score. The volume level is quite low, but easily rectified. The stereo does offer some room for effects and sound separation, most notably in the cornfield. The optional subtitles are timed accurately and free of typographical error, but it's interesting to note the differences in translation when compared to the behind the scenes footage in the extra.
Extras
The disc presents its content with an animated menu. There's only the one extra feature here, but it's a hefty one. The Making Of (Jam Session Official Bootleg of Kikujiro) lasts 92:57 following a disclaimer about the quality of the materials, is presented in 720p; most likely scaled up, and with burnt in subtitles.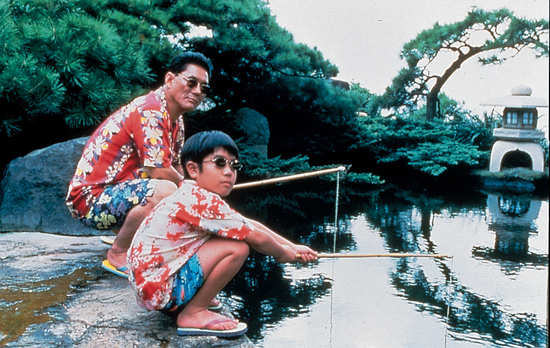 This is a contemporary behind the scenes feature, with cameras following the cast and crew on the shoot, essentially offering some 1½ hours of b-roll footage, without voiceover or captions providing context. Not that you need them, as it's all clear enough. What it could have used is chaptering, or even breaking up into smaller featurettes, as the feature length runtime is a bit of a slog. But it is worthwhile in the end.
Conclusion
Finally Kikujiro gets the presentation that it always deserved. I was watching the film as if it was the first time again, taking in all manner of detail that I had always missed out on before. It may lack the crystal clarity and audio oomph of modern blockbusters on Blu-ray, but this film certainly looks better than you'll have ever seen it before, and I guarantee that you'll be watching it a lot more often than those HD reference discs. It's not all about the tech specs! I still love Kikujiro, and even now, it may just be my favourite Japanese film.
It is a road movie most certainly, but one that has a gentle, tender, heartfelt story to tell, more "Wizard of Oz than Wim Wenders" as Beat Takeshi has been reported as saying. At its heart is the relationship that develops between the shy nine-year-old boy Masao and the retired small time gangster Kikujiro. Kikujiro is the sort of man who bullies and blusters his way through life, using his considerable presence to achieve his ends. But as the relationship grows, the two learn that they have something in common.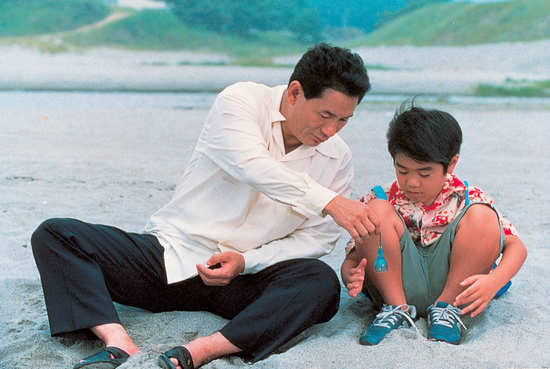 The charm of the film is that it is told from Masao's point of view, as he relates the adventures that he has that summer. The film perfectly captures an idyllic moment in childhood, but to its credit it never descends to schmaltz and sugar-coated fantasy. It actually has a realism behind the childhood vision that earns it the 12 rating. In one of Masao's diversions, he falls prey to one of those perverted businessmen that you hear tell of, before Kikujiro can rescue him. The film never descends into prurience, but it also isn't afraid of giving this event consequences. Like a lot of nine-year-old children, Masao is naïve and trusting, and a rude awakening to the harshness of the world is going to have an effect. Similarly, when Kikujiro runs into characters that he can't intimidate, Masao has to deal with the aftermath.
Like most road movies, this film is more about the journey than the destination, and aside from a couple of dark diversions, Masao's journey is filled with magic and delight as he accompanies Kikujiro across the country. They meet all sorts of characters and get into various adventures, as Kikujiro can't help letting his larcenous streak dictate his actions. Masao is played by Yusuke Sekiguchi, and unlike most children in movies, his performance is more natural and real. In fact, it's fair to say that he isn't that great an actor. But the editing, the soundtrack and other actors all come together to make it work, and the film actually creates a performance that isn't there. Masao is a cipher, and we empathise with him because we invest him with the feelings that we would have in those situations. Of course with such a colourful character as Kikujiro created by Takeshi Kitano filling the screen, there is plenty to appreciate about this film.
Kikujiro is magical, heart-warming, moving and tender. It's a memorable experience that will stay with you long after the end credits have rolled, and it captures a child's experience in a way that no other film manages. Kikujiro is a perfect little movie that I have no hesitation in recommending. In fact I urge you to watch it. And I can finally say that it has the perfect presentation too.