Kikujiro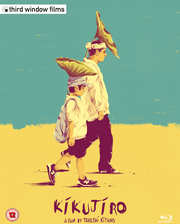 Takeshi Kitano's award-winning classic now available on bluray with a new 2K remaster from Office Kitano!
Certificate: 12
Running Time: 122 mins
Retail Price: £19.99
Release Date: 2016
Content Type: Movie
Synopsis:
It's summer and little Masao has no one to play with. With soccer practice suspended and his friends away at the beach, living alone with his grandmother seems even less fun for a nine-year-old boy.

With address and photo in hand, Masao decides to take off in search of the mother he's never met. But with little money and even less sense of direction, Masao can't go alone. A friend of his grandmother volunteers her husband to accompany the boy on his quest.

Kikujiro hardly seems an ideal companion for anyone, let alone for a boy as sensitive as the sullen Masao. Brash, loudmouthed and always on the lookout for easy money, the irresponsible Kikujiro doesn't even appear to be overly fond of children.

Kikujiro's excursion to the cycle races is the first of a series of adventures for the unlikely pair. Theirs will be a whimsical journey of laughter and tears with many a zany surprise and oddball character to meet along the way. All to discover that they have more in common than meets the eye. All to show wide-eyed Masao that the world, as he's known it, is not without magic.

By the bittersweet trip's end, Masao will have collected a wealth of information for his "What I Did Last Summer" project. And for Kikujiro, the heart-warming lesson that sometimes it takes a child's games to help us see exactly what went wrong with our own lives.
Special Features:
Making Of (92:57)

Video Tracks:
1.85:1 widescreen 1080p

Audio Tracks:
DTS-HD MA 2.0 Stereo Japanese

Subtitle Tracks:
English

Directed By:
Takeshi Kitano

Written By:
Takeshi Kitano

Starring:
Rakkyo Ide
Great Gidayu
Kazuko Yoshiyuki
Yuuko Daike
Kayoko Kishimoto
Yusuke Sekiguchi
Takeshi Kitano

Casting By:
Takefumi Yoshikawa

Soundtrack By:
Joe Hisaishi

Director of Photography:
Katsumi Yanagishima

Editor:
Yoshinori Oota
Takeshi Kitano

Production Designer:
Tatsuo Ozeki

Producer:
Takio Yoshida
Masayuki Mori
Shinji Komiya

Distributor:
Third Window Films