The Karate Kid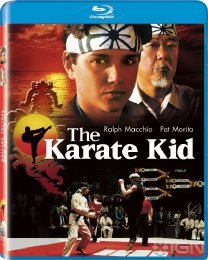 Certificate: 15
Running Time: 127 Mins
Retail Price: £19.99
Release Date: 19/07/2010
Content Type: Movie
Synopsis:
Daniel (Ralph Macchio) arrives in Los Angeles from the East Coast and faces the difficult task of making new friends. However, he becomes the object of bullying by the Cobras, a menacing gang of karate students, when he strikes up a relationship with Ali (Elisabeth Shue), the Cobra leader's ex-girlfriend. Eager to fight back and impress his new girlfriend, but afraid to confront the dangerous gang, Daniel asks his handyman Miyagi (Noriyuki "Pat" Morita), whom he learns is a master of the martial arts, to teach him karate. Miyagi teaches Daniel that karate is a mastery over the self - mind and body - and that fighting is always the last answer to a problem. Under Miyagi's guidance, Daniel develops not only physical skills but also the faith and self-confidence to compete despite tremendous odds as he encounters the fight of his life in the exciting finale to this entertaining film.
Special Features:
"Beyond the Form" Featurette
Commentary with Director John G. Avildsen, Writer Robert Mark Kamen and Actors Ralph Macchio and Pat Morita
"East Meets West: A Composer's Notebook"
"Life of Bonsai" Featurette
"The Way of the Karate Kid" Multi-Part "Making of" Featurette
Blu-Pop (TM): Activate the exclusive Blu-pop feature to reveal pop up trivia, interviews and more secrets from the film!

Related Websites:
http://www.sonypictures.co.uk/homevideo/catalog/catalogDetail_DVD5050629047134.html

Audio Tracks:
English; Italian ; Spanish

Subtitle Tracks:
English ; English for the hearing impaired ; Danish ; Finnish ; Hindi ; Italian ; Norwegian ; Portuguese (Portugal) ; Spanish (Castilian)

Directed By:
John G. Avildsen

Starring:
Ralph Macchio, Noriyuki 'Pat' Morita, Elisabeth Shue, Martin Kove, Randee Heller, Chad McQueen, William Zabka, Tony O'Dell, Frances Bay, Larry Drake

Distributor:
Sony Pictures Home Entertainment