Alex and Stephen Kendrick's latest film Courageous hits DVD in February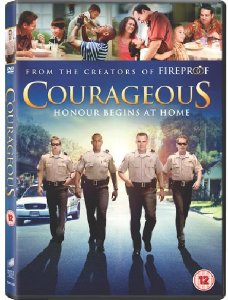 Honour Begins at Home
COURAGEOUS
Debuting on DVD February 27
Extensive Bonus Materials Include
Behind-the-Scenes Featurettes, Deleted Scenes, and a Blooper Reel
London
, UK
. 19.12.11 -
The latest film from Sherwood Pictures and Alex and Stephen Kendrick (
Fireproof
,
Facing the Giants
and
Flywheel
) is the action-packed inspirational drama
Courageous
, debuting on DVD February 27 from Sony Pictures Home Entertainment and AFFIRM Films.
Courageous
will have families laughing and cheering as they are inspired by everyday heroes who long to be the kinds of dads that make a lifelong impact on their children. Bonus materials include four behind-the-scenes featurettes, deleted scenes, a blooper reel and commentary by The Kendrick Brothers.
Courageous
will be available for £19.99 (DVD).
Synopsis:
As law enforcement officers, Adam Mitchell, Nathan Hayes and their partners willingly stand up to the worst the world can offer, yet at the end of the day, they face a challenge that none of them are truly prepared to tackle: fatherhood. While they consistently give their best on the job, they quickly discover that their children are beginning to drift further away from them. When tragedy hits home, these men are left with a newfound urgency to renew their faith and reach out to their own children. Will they be able to find a way to serve and protect those who are most dear to them?
DVD Bonus Features Include:
OUTRAGEOUS: Outtakes and Bloopers
"

Courageous

in 60 Seconds" Featurette
"The Making of

Courageous

" Featurette
"The Heart of

Courageous

" Featurette
"The Story of My Father" Featurette
Deleted Scenes
Commentary by The Kendrick Brothers
Directed by Alex Kendrick from a screenplay by Stephen Kendrick and Alex Kendrick,
Courageous
was produced by Stephen Kendrick, with Michael Catt, Jim McBride and Terry Hemmings serving as executive producers.
Courageous
has a running time of 124 minutes and is rated 12.
PRODUCT INFORMATION
TITLE
COURAGEOUS
Release Date February 27, 2012
Format DVD
RRP £19.99
Certificate 12
Genre Drama
Running Time 124mins