The Warlords: Collectors Edition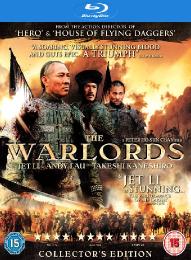 Certificate: 15
Running Time: 110 mins
Retail Price: £24.99
Release Date: 02/03/09
Content Type: Movie
Synopsis:
Starring action cinema's most acclaimed superstar, the legendary Jet Li, and featuring battle scenes from the action choreographer behind Oscar-nominated smash hits "Hero", "House Of Flying Daggers" and "Curse Of The Golden Flower" comes a film that redefines the modern action epic. Co-starring Takeshi Kaneshiro ("Red Cliff") and Andy Lau ("Infernal Affairs") reunited for the first time since their worldwide box office smash hit "House Of Flying Daggers".

In the year 1850, the suffering of the 430 million-strong Chinese nation was at its height under the corrupt rule of the Qing dynasty. During the chaos of a decade long civil war, 50 million people died from either hunger or battle.

This infamous tyranny set the stage for the Taiping Rebellion, led by some of the most incredible military strategists the world has ever known. From that chaos, three heroes would rise to unite armies and crush all who would seek to enslave them. But the cost of victory would shatter their brotherhood and unleash tragedy and bloodshed across the nation. This is the incredible story of the last great warlords.
Special Features:
• 117 Days: A Production Journal
• Reflections on 'The Warlords'
• Deleted Scenes
• The History Behind The Warlords (Text Pages)
• International Trailer
• UK Theatrical Trailer

Video Tracks:
Anamorphic Widescreen 2.35:1

Audio Tracks:
DTS HD Master Audio 5.1 Mandarin
PCM Stereo 2.0 Mandarin

Subtitle Tracks:
English

Directed By:
Peter Chin

Written By:
Tin Nam Chun
Junli Guo
Jiping He
Jianxin Huang
Jo Jo Yuet-chun Hui
Oi Wah Lam
Lan Xu
James Yuen

Starring:
Jet Li
Andy Lau
Takeshi Kaneshiro
Jinglei Xu

Soundtrack By:
Kwong Wing Chan
Peter Kam
Leon Ko

Director of Photography:
Arthur Wong

Editor:
Chris Blunden
Wenders Li

Costume Designer:
Jessie Dai
Pik Kwan Lee

Production Designer:
Chung Man Yee

Visual Effects:
Yuen Fai Ng

Producer:
Peter Chan
Rita Fung
Lorraine Ho
Jo Jo Yuet-chun Hui
Andre Morgan
D. Daniel Vujic
Wai Man Yip

Executive Producer:
Sanping Han
Peter Lam
Andre Morgan

Distributor:
Metrodome Group