Legendary Cine-Asia Titles Featuring Jackie Chan And Chow-Yun Fat Now Available Through Trinity Film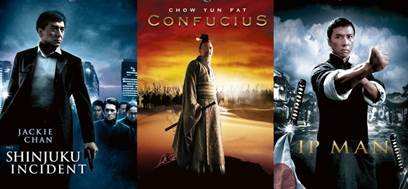 London: Monday 1st December 2014 – Today Trinity Film announces that for the first time in almost 2 years the full Showbox catalogue, which includes the legendary collection Cine-Asia, will be available again on DVD and Blu-ray in retail stores and online.
The Cine-Asia catalogue will be available online on Amazon and Play from  Monday 1st December and in shops from January 2015 onwards.
Among the many legendary stars to be found in these titles are Jackie Chan, Donnie Yen, and Chow-Yun Fat. Classic Cine-Asia titles include Ip Man and Ip Man 2, Little Big Soldier, Confucius, Shaolin, Mulan, Chocolate as well many action, war, swordplay and horror titles. Other titles included in the Showbox collection are such recent cult classics such as Ichi the Killer, Henry of Navarre, Red Baron and Feed.
Trinity Film is already planning to release special steelbook editions in the New Year as well as special collector editions and boxsets. The catalogue will also be comprehensively exploited on demand.
Cedric Behrel, co-founder and director of TRINITY FILM said: "We are absolutely over the moon to be able to bring back a much cherished catalogue to avid fans with such luminaries as Jackie Chan, Donnie Yen and Chow-Yun Fat. Showbox and Cine-Asia were the number one destination for some of cinema's most iconic action stars, and we will do our utmost to maintain that position and build up this unique library by breathing new life into it. First off, we will work on long-awaited steelbook editions drawn from the classic Cine-Asia titles, as well as boxsets that offer the chance to (re)discover some lesser known gems and harder to get titles amongst the more known ones. Overall, we recognise fans haven't been able to get their hands on some of these films in the formats they want at an attractive price, and that is exactly what we are setting out to repair."
www.trinityfilm.co.uk