The first Ealing Studios Blu-ray box set arrives this March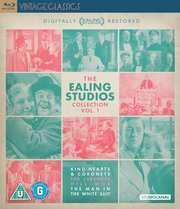 If you are a fan of classic Ealing comedies, but haven't yet managed to snap any of them up on Blu-ray, then
StudioCanal
have the box set for you arriving on 30th March.
The Ealing Studios Collection: Volume 1
features three previously released offerings in one box.
Extras are the same as the individual releases, whilst the recommended retail price will be around £25.99.
Kind Hearts and Coronets
is directed by Robert Hamer and stars Alec Guinness, Dennis Price, Joan Greenwood and Valerie Hobson.
Guinness features in eight different roles as the unsuspecting members of the aristocratic D'Ascoyne family, murdered one by one by the scheming, outcast cousin Louis Mazzini. Mazzini's mother was a D'Ascoyne by birth, but when she ran away with an opera singer she was ostracized by her family as a result.

When her dying wish to be buried in the family crypt is refused, Louis vows to get his revenge. As he ascends the social ranks, he is torn between his love for now-married childhood sweetheart, and equally devilish Sibella, and the saintly wife of one of his victims, Edith D'Ascoyne.
The Lavender Hill Mob
is directed by Charle Chritcton and stars Alec Guinness, Stanley Holloway, Alfie Bass and Sid James.
Holland is a shy retiring man who works as a bank transfer agent for the delivery of gold bullion. One day he befriends Pendlebury, a maker of souvenirs. Holland remarks that, with Pendlebury's smelting equipment, one could forge the gold into harmless-looking toy Eiffel Towers and smuggle the gold into France.

Soon after, they gain the services of professional criminals Lackery and Shorty and the four plot what they believe will be the perfect crime,- but which turns out to be anything but.
Lastly,
The Man in the White Suit
is directed by Alexander Mackendrick and stars Alec Guinness, Joan Greenwood, Cecil Parker and Michael Gough.
Sidney Stratton, a humble inventor, develops a fabric which never gets dirty or wears out. This would seem to be a boon for mankind, but the established garment manufacturers don't see it that way, they try to suppress it.
Nevertheless, Sidney is determined to put his invention on the market, forcing the clothing factory bigwigs to resort to more desperate measures.