Digitally restored classics including Kind Hearts and Coronets on DVD and Blu-ray this Summer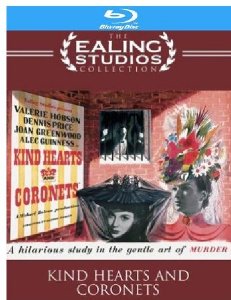 KIND HEARTS AND CORONETS

"Quintessential British comedy... a jewel in the crown of the finest comedy production line
Britain ever saw" *****
EMPIRE


Directed by Robert Hamer

Starring Dennis Price, Alec Guinness,
Valerie Hobson & Joan Greenwood

From Ealing Studios
Produced by Michael Balcon
Cinematography by Douglas Slocombe

Certificate: tbc / Running Time: 101 mins

KIND HEARTS AND CORONETS
Restored digital print back in cinemas
August 19th 2011
Perhaps the most perfect of all the Golden-Age Ealing comedies,
Kind Hearts and Coronets
famously featured Alec Guinness in eight different roles as the unsuspecting members of the aristocratic D'Ascoyne family - bumped off one by one by the scheming, outcast cousin of the family: Louis Mazzini. Mazzini's mother was a D'Ascoyne by birth, but she ran away with an opera singer and was ostracized by her family as a result. When her dying wish to be buried in the family crypt is refused, Louis vows to get his revenge. As he ascends the social ranks, he is torn between his love for now-married childhood sweetheart and equally devilish Sibella (Joan Greenwood), and the saintly wife of one of his victims, Edith D'Ascoyne (Valerie Hobson).
Dennis Price's stunning performance as the ambitious Louis has always been somewhat overshadowed by Guinness, so sit back and admire anew the coolly detached relish with which he dispatches the eight relatives standing between himself, the Dukedom, and revenge. The film featured stunning and inventive cinematography by Douglas Slocombe, and a groundbreaking first-person narrative that, legend has it, inspired Scorsese to make use of the same device in
Goodfellas.
THE LAVENDER HILL MOB
is back in cinemas July 22nd
On DVD and Blu-ray on 1st August
WHISKY GALORE!
is back in cinemas July 29th
On DVD and Blu-ray on 1st August
KIND HEARTS AND CORONETS
is back in cinemas 19th August
On DVD and Blu-ray on 5th September
ALL BRAND NEW DIGITAL RESTORATIONS!