Pialat's bio-pic Van Gogh gets the Masters of Cinema treatment this September on DVD and Blu-ray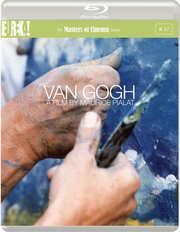 We can often barely hide our excitement whenever another Masters of Cinema release is announced from Eureka Entertainment, and today is no exception.
French director Maurice Pialat's bio-pic
Van Gogh
arrives on both DVD and Blu-ray, starring Jacques Dutronc, Gérard Séty and Bernard Le Coq. Presented in its original 1.66:1  aspect ratio from a newly restored transfer and in 1080p on the HD release, this also comes with new and improved optional English subtitles.
Extras will include the a short 1965 documentary about the painter, by Maurice Pialat, both 10 and 50 minute interviews with Pialat from 1991/2, video interviews with actors Dutronc and Le Coq, director of photography Emmanuel Machuel, and editor Yann Dedet.
Oh and deleted scenes, original theatrical trailer and the obligatory 56 page booklet with a new and exclusive essay by critic Sabrina Marques, Jean-Luc Godard's letter to Pialat after seeing the film, followed by Godard's tribute to Pialat upon the director's passing in 2003, newly translated interviews with Maurice Pialat, images of Pialat's canvasses, other rare imagery and more.
The recommended retail price for this sumptuous feast will be £19.99, regardless of which version you choose to buy.
Synopsis and trailer follow...
Van Gogh has arrived at Auvers-sur-Oise to come under the care of Dr. Gachet for his nervous agitation. Soon after the arrival of Vincent's brother Théo and his wife, plein air portraiture and conviviality give way to the more crepuscular moods of brothels and cabarets, and the painter's anguished existence, tossing between money worries and an impassioned relationship with the doctor's teenage daughter, finally meets its terminal scene.
With its loosely factual and wholly inspired treatment of the last period of Van Gogh's life, Pialat's film applies an impressionist touch to the biographical picture, indeed, the filmmaker was himself an accomplished painter, and the personal resonance of the subject matter results in an epic, major late work.