Sous le soleil de Satan: The Masters of Cinema Series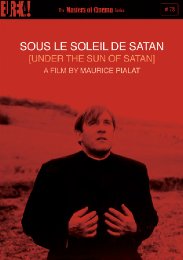 Under the Sun of Satan
Certificate: 15
Running Time: 93
Retail Price: £19.99
Release Date: 22/03/2010
Content Type: Movie
Synopsis:
Positioned somewhere between Bresson's immortal Journal d'un curé de campagne and Dieterle's The Devil and Daniel Webster, Maurice Pialat's staggering Sous le soleil de Satan Under the Sun of Satan] addresses the torrent of spiritual and intellectual turmoil unloosed among the denizens of a little country parish. It is a film by turns calm and violent, buoyant upon the tears of mercy and gurgling with the blood of the Lamb.

Gérard Depardieu (Loulou, Le Garçu) is the self-abasing curate tortured by questions about his role in God's plan — before an encounter with a material Satan touches off a powerful revelation. At the crux of his vision is Sandrine Bonnaire (A nos amours., Police), the madly profligate sylph whose fate ruptures in a blast of gunpowder and the slash of a razor. As events unfurl, Maurice Pialat himself provides witness as the seasoned cleric who pronounces the words: "God wears us down."

One of the great films of faith made by a non-believer, Sous le soleil de Satan left an indelible mark on spectators from the very moment of its premiere at the Cannes Film Festival in 1987 — where it won the Palme d'Or for Best Film. The Masters of Cinema Series is proud to present Maurice Pialat's soul-shaking Sous le soleil de Satan on DVD in the UK for the first time.
Special Features:
• Gorgeous new anamorphic transfer of the film in its original aspect ratio
• New and improved English subtitle translations
• Isabelle aux Dombes [Isabelle in La Dombes] - Maurice Pialat's first film, an 8-minute silent work from 1951
• Congrès eucharistique diocésain. [Diocesan Eucharistic Congress.] - an 8-minute silent film by Maurice Pialat from 1953
• 11-minute 2003 interview with star Gérard Depardieu
• 13 minutes of footage from the press conference for the film with Pialat and cast, directly following its debut at the 1987 Cannes Film Festival
• 7-minute interview with Pialat and Depardieu
• 54-minute 1983 television programme dedicated to the film, featuring lengthy interviews with Pialat and esteemed Catholic writer André Frossard
• 14 minutes of footage shot on the set of Sous le soleil de Satan
• 55-minute featurette containing excised scenes and alternative versions of sequences from the film, commented upon by editor Yann Dedet, apprentice editor and future director Cédric Kahn, and screenwriter and assistant Sylvie Pialat
• Original theatrical trailer for Sous le soleil de Satan
• Trailers for six other Maurice Pialat films released by The Masters of Cinema Series
• 28-page booklet

Video Tracks:
Anamorphic Widescreen 1.66:1

Audio Tracks:
Dolby Digital 2.0 Mono French

Subtitle Tracks:
English

Directed By:
Maurice Pialat

Written By:
Georges Bernanos
Maurice Pialat
Sylvie Pialat

Starring:
Gérard Depardieu
Sandrine Bonnaire
Maurice Pialat
Alain Artur
Yann Dedet
Brigitte Legendre
Jean-Claude Bourlat
Jean-Christophe Bouvet
Philippe Pallut
Marcel Anselin
Yvette Lavogez
Pierre D'Hoffelize
Corinne Bourdon
Thierry Der'ven
Marie-Antoinette Lorge

Soundtrack By:
Henri Dutilleux

Director of Photography:
Willy Kurant

Editor:
Yann Dedet

Costume Designer:
Gil Noir

Production Designer:
Katia Wyszkop

Executive Producer:
Claude Abeille

Distributor:
Eureka Entertainment
The Masters of Cinema Series