Police: The Masters of Cinema Series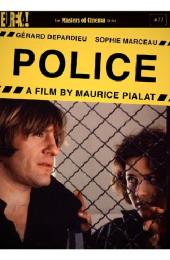 Certificate: 15
Running Time: 109
Retail Price: £22.99
Release Date: 22/09/08
Content Type: Movie
Synopsis:
Maurice Pialat's Police delivers on the raw promise of its title, insofar as much of its action qualifies as an insistently 'procedural' descent into the Paris drugs underworld. But the hyper-real route that the film takes to arrive there, before veering into a zone of dangerous emotional play, contributes to a disorienting, adventurous, and ultimately tremendously exciting experience unlike any 'police-thriller' ever before conceived.

The iconic Gérard Depardieu (who also collaborated with Pialat on Loulou, Sous le soleil de Satan, and Le Garçu) plays Mangin, a cop whose brutal method of investigation finds its obsessive outlet in an attempt to crack a Tunisian narcotics ring. It is when Mangin enters into close acquaintance with the defiant Noria (expertly played by Sophie Marceau in one of her first screen roles) that the film proceeds to chart an unexpected, emotionally ambiguous course — and the lines between 'right' and 'wrong', and 'power' and 'freedom', terminally blur.

Written with Catherine Breillat (director of The Last Mistress, Anatomy of Hell, Fat Girl), but relying in equal measure upon Pialat's improvisatory control (directing, among others, his star-actress from A nos amours, Sandrine Bonnaire), Police is a genre-defying excursion rivaled only by John Cassavetes' The Killing of a Chinese Bookie in the pantheon of cinema's most idiosyncratic thrillers. The Masters of Cinema Series is proud to present Maurice Pialat's daring 1985 film in a magnificent restored transfer for the first time on DVD in the UK.
Special Features:
• New anamorphic transfer of the film in its original aspect ratio
• New and improved English subtitle translations
• 2003 video interview with director and Police co-screenwriter Catherine Breillat, conducted by former Cahiers du cinéma editor-in-chief, and current director of the Cinémathèque Française, Serge Toubiana
• ZOOM SUR POLICE [ZOOM ONTO POLICE] (2002) — 34-minute documentary by Virginie Apiou about the production of the film
• Vintage screen-tests featuring Maurice Pialat and C. Galmiche, the inspiration for the character of Lambert
• Excerpt from a 1985 episode of Cinéma Cinémas shot during the course of the 17th day of production on Police
• 23-minute video discussion with Yann Dedet, the editor of Police
• The film's original trailer, along with trailers for other Maurice Pialat films to be released by The Masters of Cinema Series
• 40-page booklet containing a new essay by filmmaker and critic Dan Sallitt, and newly translated interviews with Maurice Pialat

Video Tracks:
Anamorphic Widescreen 1.66:1

Audio Tracks:
Dolby Digital 2.0 Mono French

Subtitle Tracks:
English

Directed By:
Maurice Pialat

Written By:
Catherine Breillat
Sylvie Pialat
Jacques Fieschi
Maurice Pialat

Starring:
Gérard Depardieu
Sophie Marceau
Richard Anconina
Pascale Rocard
Sandrine Bonnaire
Frank Karaoui
Jonathan Leïna
Jacques Mathou
Bernard Fuzellier

Director of Photography:
Luciano Tovoli

Editor:
Yann Dedet

Costume Designer:
Malika Brahim

Production Designer:
Yan Arlaud
Constantin Mejinsky
Alain Pitrel

Producer:
Emmanuel Schlumberger

Executive Producer:
Daniel Toscan du Plantier

Distributor:
Eureka Entertainment
The Masters of Cinema Series