Tabu: A Story of the South Seas from the Masters of Cinema series comes to DVD and Blu-ray in June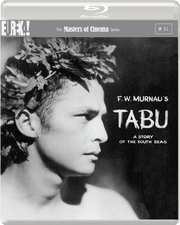 What better thing to leave you for the weekend with than news of another
Eureka Entertainment
release in their
Masters of Cinema
series? Out on 17th June is
Tabu: A Story of the South Seas
, arriving on both DVD and Blu-ray.
Directed by F. W. Murnau with the aid of Robert Flaherty, this stars Matahi and Reri, and features cinematography from Floyd Crosby.
With a brand new 1080p HD transfer of the 75th anniversary restoration of the pre-Paramount, longer director approved version of the film, this contains uncensored scenes and titlecards. It is presented in its original 1.19:1 aspect ratio for the first time, and includes a commentary track with R. Dixon Smith and Brad Stevens.
Other extras include a 15-minute German documentary by Luciano Berriatúa, new outtakes from the original shoot of the film,
Treibjagd in der Südsee
archival short film from 1940, and 56 page booklet with articles, interviews and original story treatments.
The recommended retail price will be £17.99 for the DVD, and £19.99 for the Blu-ray version.
Synopsis, marketing blurb and trailer follow...
In 1929, F. W. Murnau, one of the greatest of all film directors, invited leading documentarist Robert Flaherty to collaborate on a film to be be shot on location in Tahiti, a Polynesian idyll in which Murnau imagined a cast of island actors would provide a new form of authentic drama and offer rare insight into their "primitive" culture. The result of their collaboration was Tabu, a film that depicts the details of indigenous island life to tell a mythical tale that is rich in the universal themes of desire and loss.
Tabu concerns a Tahitian fisherman and his love for a young woman whose body has been consecrated to the gods, rendering her tabu as far as mortal men are concerned. The lovers flee their island and its restrictive traditions, but will their love prevail in the "civilised" world?
This Oscar-winning film is both poetic and simple in tone. The Masters of Cinema Series is proud to present – completely unc­ensored and fully restored – this landmark film of rare exoticism and magical beauty, described by critic Lotte Eisner in 1931 as "the apogee of the art of the silent film", for the first time ever on Blu-ray in its original aspect ratio.