60s hip flick Some People with Kenneth More comes to DVD in May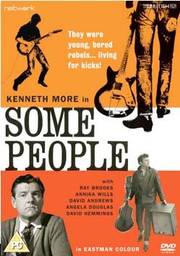 More classic British cinema coming our way courtesy of
Network Distributing
, this time from the sixties. Out on 20th May is the PG rated
Some People
, starring Kenneth More, Ray Brooks, Annika Wills and David Hemmings.
A lively musical tale of teen rebellion, this has been remastered in its original 1.66:1 aspect ratio, and oddly the clip we found on YouTube is in colour but this is black and white. We're confused, so it's okay for you to be too.
The recommended retail price will be £9.99.
Synopsis and film clip follow...
Young and bored, Johnnie, Bill and Bert are teenaged tearaways whose only interests are motorbikes and rock music. When they are banned from riding and fined heavily, they become convinced that society has no use for them.
But a young organist finds them playing rock on a church organ and, for one of them at least, there seems to be a way out of a no-hope situation.