New Big Screen Tablet PCs from Gemini Devices Flaunt Pink, Blue and Silver Designs
Jelly Bean 4.1, 10 Point Multi Touch 9.7inch Display, Dual Core Processing, HDMI and Bluetooth for only £149.99

Gemini Devices
has unveiled a new line of affordable 9.7" Tablet PCs which boast an attractive combination of colourful design and powerful performance. Available in Pink, Blue and Silver, the new
10313s
Tablets are the perfect choice for those that want their tech to look good as well as work hard.
"With so many Tablets to choose from we wanted to offer our customers a key differentiator. The new coloured designs allow them to buy a Tablet to match their personality in addition to fulfilling their feature requirements". - Luke Prodromou, Head of Product Marketing,
Gemini Devices.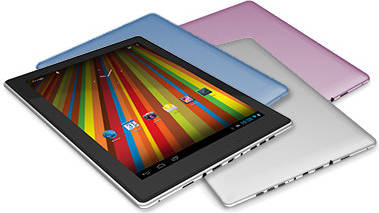 These new, design-centric Tablet PCs from Gemini Devices also boast a feature rich specification. Power is taken care of by the Dual Core ARM Cortex A9 processor inside which ensures effortless, speedy Android Jelly Bean 4.1 performance. Teamed up with the Quad Core ARM Mali 400 graphics processor and 1GB DDR RAM the Duo 9.7 also pumps out amazing gaming and multimedia graphics.
The 10313s features an ultra responsive Capacitive 10 Point Multi Touch display with a 1024 x 768 resolution. The big screen display is the perfect host for HD content and much more. It consistently delivers vibrant, ultra sharp picture quality, and the lightning reactions guarantee uninterrupted Android 4.1 navigation and silky smooth usability. To go even bigger, Mini HDMI connectivity allows seamless connectivity with any HDMI wielding TV or large screen monitor to instantly gain Smart Media Center functionality and to deliver multimedia content in stunning High Definition.
Other highlights include: both front and rear mounted cameras; plenty of storage options for media content, with 16GB built-in storage supplied as standard, and a Micro-SD slot to add a further 32GB any time; built-in Bluetooth technology to connect wirelessly with the growing number of Bluetooth enabled accessories; and Micro USB to hook up to a PC.

Gem10313s RRP £149.99

CPU: Dual Core ARM Cortex RK 1.5GHz
Graphics: ARM Mali-400 Quad Core
Memory: 1GB DDR3 Memory
Storage: 16GB built-in, upgradeable with a Micro SD Card (addition of up to 32GB)
Display: Capacitive 10 Point Multi-Touch Screen / 9.7inch – 1024 x 768
Connectivity: Micro USB Port, Mini HDMI, Micro SD, 3.5mm Stereo Earphone Jack
Wireless Network: Wi-Fi 802.11b/g/n, built-in Bluetooth 2.1
Camera: Front 0.3 Megapixel and rear 2.0 Megapixel
Gyroscope: Built in G sensor for gaming and automatic screen rotation
OS: Google Android 4.1 (Jelly Bean)
Dimensions and weight: (W) 242mm x (H) 185mm x (D) 9.8mm 632g