Gemini JoyTab 10" (9.7")
The joy of Gemini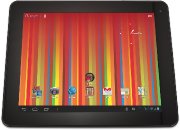 Retail Price:
£199
Release Date:
Hardware Category: Tablet

Description:
The JoyTAB Tablet PC series includes 7", 8" and 10" models and features Google's latest OS, Android 4.0 (Ice Cream Sandwich), ready to serve the ever growing fan base of Android powered mobile devices. Presenting a serious rival to the leading players currently fighting it out at the top of the Tablet market, the new propositions from Gemini Devices boast a winning combination of style, performance and quality, but minus the premium price tag.

Taking on the competition with style, the JoyTAB series features a super chic, ultra-slim and lightweight design for the modern, fashion conscious technateer. The JoyTAB 10" measures less than a centimetre thick! But the highlight of the JoyTAB series' design is most definitely the finest premium aluminium casing. The brushed silver effect form not only looks fantastic but also results in a high quality build and finish, for a long lasting design that never goes out of fashion.

The JoyTAB Tablet PCs from Gemini Devices include Widescreen Capacitive Multi-Touch Screen's delivering a blisteringly fast, responsive user experience for the variety of multi-touch capabilities such as; pinch to zoom, twist to rotate, swipe to scroll and much more. The displays also offer super wide viewing angles, ultra sharp images and amazing vibrant colour for a true to life visual experience.

Taking care of performance is up to 1GB DDR3 memory and Cortex A8 processing power which, in addition to ensuring consistently smooth running at all times, also delivers great gaming and uncompromising video graphics (the JoyTAB series supports Adobe Flash.) Android 4.0 serves up a whole host of additional mobile computing power such as advanced multi-tasking support, allowing you to jump instantly from one task to another, and a speedy web browser that enables up to 16 web tabs to open simultaneously. Android 4.0 applications such as Gmail, Google Maps, You Tube and EBook reader are pre-tabbed ready to rock and roll as standard, and of course a wealth of additional apps such as Angry Birds, Facebook, Twitter and Skype are available to download anytime. Keeping you online, the JoyTAB Tablet PCs include super fast Wi-Fi for instant network connectivity.

The JoyTAB Tablet PC series is also armed with a comprehensive feature set… Most notably, on-board Webcams for instant video conferencing with friends, family and the office. The JoyTAB 7" and 8" feature 0.3MP front mounted Webcams. The JoyTAB 10" includes an additional powerful 2.0MP rear mounted Webcam. There is also plenty of on-board storage for favourite songs, movies, apps, videos and pictures with up to 16GB storage supplied as standard. This can be upgraded up to 32GB very simply at any time via a Micro SD Card for more demanding storage needs. The Micro SD card slot can also be utilised to transfer photos direct from a camera and to share files with others. USB and HDMI 1.4 also furbish the JoyTAB Tablet PC, making it simple to connect with a PC and even to hook up seamlessly to a HDTV or monitor to enjoy immersive content in crisp High Definition.

The JoyTAB Tablet PC series is available through various UK retailers including; Argos, Amazon.co.uk, Very.co.uk, Bright House and many more. They are supplied with a one year warranty which is fully supported in the UK.
Technical Specifications:
JoyTAB 10" RRP £199.99
CPU: Rockchip RK2918 1Ghz Cortex A8 Core
Graphics: GC800
Memory: 1GB DDR3 Memory
Storage: 16GB built-in, upgradeable to 32GB with Micro SD Card
Display: IPS LCD Capacitive Multi-Touch Screen/9.7inch TFT LCD - 1024 x 768
Connectivity: Micro USB Port, Mini HDMI 1.4, Micro SD
Audio: Built-in 1W Speaker, Built-in Mic, 3.5mm Stereo Earphone Jack
Wireless Network: Wi-Fi 802.11b/g
Video Output: HDMI 1.4
Camera: Front 0.3 Megapixel and rear 2.0 Megapixel
Video Supported: AVI, H.264, DIVX, XVID, rm, rmvb, MKV, WMV, MOV, MP4, MPG, FLV.HD 1080P max.
Music Supported: MP3, WMA, MP2, OGG, AAC, M4A, FLAC, 3GP, WAV
Battery: Up to 5 hours (3.7V / 4400mAh)
Gyroscope: Built in G sensor for gaming and automatic screen rotation
OS: Google Android 4.0 (Ice Cream Sandwich)
Internet Services: Browser-ChromeLite, JAVA, YouTube, Email, HTML5
Utilities: Calendar, Alarm Clock, Calculator, Recorder, Notepad, Picture Viewer
Dimensions and weight: (W) 241.6mm x (H) 185mm x (D) 9.8mm 618g
Hardware Requirements:

Software Requirements: