Hot guys and girls in a sauna? 247°F comes to DVD and Blu-ray in March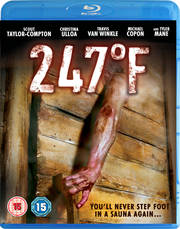 We thought we'd seen every thriller concept there was, but apparently not. Apparently based on true events, this is a cabin in the woods story with a difference, because this one has a sauna and a bunch of young pretty people somehow get locked in it.
Now, it is not for us to say if this is a cynical attempt by directors Levan Bakhia and Beqa Jguburia to put some flesh on screen, so we won't. Anyway, out on 18th March is
247°F
starring Scout Taylor-Compton, Christina Ulloa, Travis Van Winkle, Michael Copon and Tyler Mane.
Courtesy of
Anchor Bay
, expect this to come with a trailer and possibly a featurette if you are lucky, and carry a recommended retail price of £15.99 for the DVD and £19.99 for the Blu-ray.
Synopsis and trailer follow...
Three years after witnessing the tragic death of her boyfriend in a car accident, Jenna is still struggling to come to terms with her loss. Hoping a carefree weekend away will help, Jenna's best friend since childhood, good-time party girl Renee, invites her to stay at a remote lakeside cabin along with her jock boyfriend, Michael, and his best buddy, Ian.
But the promised weekend of partying, boozing and chilling soon turns into a nightmare when three of the group find themselves inexplicably locked in the cabin's sauna with no apparent way out.