Ashley Walters stars in thriller Sket out on DVD and Blu-ray in March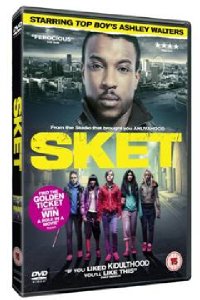 Revolver Entertainment
release London Film Festival official selection and production arm Gunslinger Films' feature thriller,
SKET
on DVD and Blu-Ray on 5th March 2012.
Nominated at the 2011 London Film Festival for the Best Newcomer award for both the director and lead star, the strong British cast includes Ashley Walters (Bullet Boy, Dead Man Running), Emma Hartley Miller (Wasted, Looking For Lucy), with Lily Loveless (Skins), Adelayo Adedeyo (Skins), Riann Steele (Treacle Jnr, Hamlet), Katie Foster Barnes (Doctors, Merlin) and Richie Campbell (Anuvahood, The Firm) as Ruds. The film also stars newcomers Varada Sethu (National Youth Theatre of Great Britain) as Kiran and introduces Aimee Kelly in the leading role of Kayla.
A distinct lack of public knowledge about female gang culture has resulted in a high level of fascination - yet not one fi lm has dared to explore it - until now. The rise in the proliferation of girl gangs is symptomatic of some of the major problems facing modern society and following extensive research including input from real-life girl gang members, the fi lm is written and directed by Nirpal Bhogal (Cold Kiss). SKET takes a controversial and dramatic look at this phenomenon sweeping the streets of Britain.
When Kayla's (Aimee Kelly) sister is brutally murdered by local drug dealer Trey (Ashley Walters), a devastated and angry Kayla vows revenge enlisting the help of the volatile, man-hating Danielle (Emma Hartley-Miller) and the rest of her gang. However, Danielle has a secret past with Trey and unbeknownst to the others, has her own reasons for seeking retribution and Kayla's quest for revenge has far reaching repercussions farther than she ever could have imagined.
"I met with various members of male and female gangs in order to learn why young women were now, more than ever, adopting aggressive male behaviour. The more I immersed myself in their ideologies the more I realised that their shift in behaviour could be explained as progressive adaptation, a theme that is at the very heart of SKET. Society is changing and the girls and women must change with it in order to survive."
Nirpal Boghal - Director
NIRPA