Selma Blair stars in thriller Columbus Circle out on Blu-ray and DVD this March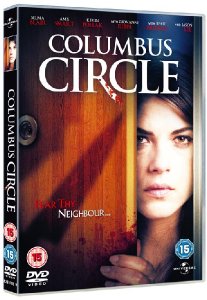 Columbus Circle

Available on DVD and Blu-ray™ from 5th March 2012
Locked away from the public eye for almost 20 years, an attractive and reclusive heiress suddenly finds her safe and secure existence threatened when a glamorous couple move in next door...
On her 18th birthday, Abigail Clayton (
Selma Blair
) received a staggering inheritance from her late father and promptly sealed herself away from the world in her massive Manhattan loft apartment. Nearly two decades later, the only people Abigail interacts with are Klandermann the concierge, and Dr Raymond Fontaine a trusted family friend.
When the death of her elderly neighbour prompts Detective Frank Giardello to launch an investigation, Abigail finds her carefully constructed and isolated world begins to fall apart - even more so when a new couple, Charlie and Lillian move in to the empty apartment next door causing Abigail to confront her troubled past. But the moment she opens her front door, the true nightmare begins...
Stylish, riveting and with an excellent cast,
Columbus Circle
is a claustrophobic thriller from the director of
Middle Men
that will leave you breathless!
Columbus Circle
stars
Selma Blair
-
Hellboy
,
Kevin Pollak
-
The Usual Suspects,
Beau Bridges
-
Max Payne
,
Giovanni Ribisi
-
Avatar,
Jason Lee
-
Vanilla Sky
and
Amy Smart
-
Crank.