Full details of 60th year anniversary edition of The Titfield Thunderbolt on Blu-ray and DVD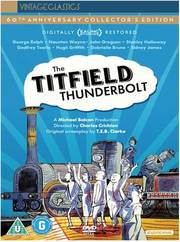 I know we've covered this before, but now we have more details to bring you! Yes, the
Studio Canal
release of
The Titfield Thunderbolt
now has a swanky cover and a price.
Out on 14th January, with the extras we've
previously mentioned
, the DVD runtime will be 80 minutes (that's PAL speed-up for you) whilst the Blu-ray is 83 minutes. Both include their original full frame aspect ratio with Mono soundtracks and subtitles for the hard of hearing, whilst the recommended retail price will be £15.99 for the standard def and £19.99 for the HD.
Synopsis and marketing blurb follows...
The first film to be shot in technicolor by the renowned Studio and celebrating its 60th year anniversary since its original release in 1953.
This charming classic follows the consequences of when the Government run, British Railways Service announce the closure of the line linking rural Titfield to Mallingford - the only line the Titfield inhabitants rely on to commute to work and transport their produce to market.
A group of the local village residents make a bid to run it themselves, backed by a massively wealthy member of the community attracted to the complete lack of alcohol licensing hours on trains.
Unfortunately their decision puts them into direct competition with the local bus company and soon enough, a whole array of comically genius anarchy and madness ensues, including cunning sabotage and thrilling adventures.