Digitally restored The Titfield Thunderbolt on Blu-ray and DVD in January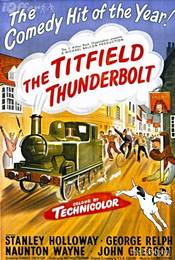 StudioCanal
have announced a new release of
The Titfield Thunderbolt
for 14th January next year. This is one of the classic Ealing Comedies and is written by T. E. B. Clarke and directed by Charles Crichton.
Digitally restored for this release, the film stars Stanley Holloway, George Relph, Nauton Wayne and John Gregson. Alas no info on recommended retail prices.
Extras will include
Making the Titfield Thunderbolt
featurette, Douglas Slocombe home movie footage,
The Lion Locomotive
feature,
Locations
featurette, stills gallery, restoration comparison, audio interview with Douglas Slocombe and trailer.
Synopsis and very short clip follow...
Originally released in 1953, this charming classic follows the consequences of when the Government run, British Railways Service announce the closure of the line linking rural Titfield to Mallingford, the only line the Titfield inhabitants rely on to commute to work and transport their produce to market.
A group of the local village residents make a bid to run it themselves, backed by a massively wealthy member of the community attracted to the complete lack of alcohol licensing hours on trains.
Unfortunately their decision puts them into direct competition with the local bus company and soon enough, a whole array of comically genius anarchy and madness ensues, including cunning sabotage and thrilling adventures.