Scorsese's masterpiece Taxi Driver comes to Blu-ray in June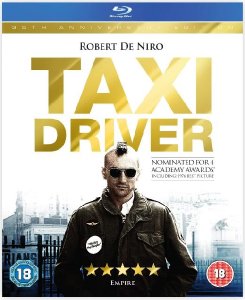 OSCAR
®
WINNERS ROBERT DE NIRO AND JODIE FOSTER
DELIVER BREAKTHROUGH PERFORMANCES IN
MARTIN SCORSESE'S MOVIE MASTERPIECE
TAXI DRIVER
Following an extensive 4K restoration from the original negative the 35th Anniversary Edition of Four-Time Academy Award
®
-Nominated Cinema Classic Arrives on Blu-ray Disc™ for the First Time on
6th June 2011
London, United Kingdom
(15/03/2011)
- Sony Pictures Home Entertainment will release Oscar winner® Martin Scorsese's (Best Director,
The Departed
, 2006) classic of modern cinema,
Taxi Driver
, on 6th June 2011
-
-for the first time on Blu-ray Disc-- in celebration of the landmark film's 35th anniversary. This powerful, angst-ridden urban drama was nominated for four Academy Awards including Best Picture, Best Actor, Best Supporting Actress and Best Score (1976) and features Oscar-favorites Robert De Niro (
Raging Bull, Goodfellas
) and Jodie Foster (
The Silence of the Lambs, The Accused
) in career-defining performances.
De Niro plays the legendary Travis Bickle, a traumatized Vietnam War veteran who takes a job as a night-time
Taxi Driver
in New York City. When he encounters a 12-year-old prostitute named Iris, played by then-13-year-old Foster, Travis sets forth to rescue her from an exploitive pimp, played by Oscar-nominee Harvey Keitel (Best Supporting Actor,
Bugsy
, 1991). The film also features Cybill Shepherd (
The Last Picture Show, Moonlighting
).
The
Taxi Driver 35th Anniversary Edition
has been newly remastered following an extensive
4K digital restoration
from the original camera negative, approved by cinematographer Michael Chapman and director Martin Scorsese. The film arrives on Blu-raypacked with bonus material, including an all-new Blu-ray™ exclusive, interactive "Script to Screen" feature, MovieIQ+Sync, and Martin Scorsese's original 1986 commentary with Paul Schrader, as well as documentaries and animated photo galleries
.
The
Taxi Driver 35th Anniversary Edition
Blu-ray Discwill be available for the suggested retail price of
£19.99 RRP.
BLU-RAY FEATURES INCLUDE:
Interactive "Script to Screen" feature, exclusive to Blu-ray. Explore the Taxi Driver script like never before in this interactive experience. The script will automatically scroll as the film plays so you can read along and discover the stage direction notes along with differences from the original script to the finished film. - Exclusive to Blu-ray
Original 1986 Commentary with Director Martin Scorsese and Writer Paul Schrader recored by The Criterion Collection - Exclusive to Blu-ray
"Martin Scorsese on Taxi Driver" featurette
"Producing Taxi Driver," a behind-the-scenes featurette
"Influence and Appreciation" - Robert De Niro, Oliver Stone, Roger Corman and others pay tribute to Scorsese and the film in this video homage
"God's Lonely Man" - a documentary featuring screenwriter Paul Schrader and Professor Robert Kolker discussing the loneliness themes as seen in the film. Schrader also talks about what circumstances lead to writing the screenplay
"Travis' New York Locations" - a contemporary, video visit to the film's famous locations in New York City, comparing them to the same locations used in 1975
Video bonus: "Storyboard to Film Comparisons," with a Martin Scorsese Introduction
Commentaries by writer Paul Schrader and professor Robert Kolker, discussing the film scene-by-scene
"Taxi Driver Stories" featurette—taxi tales as told by real life New York city cab drivers
"Making Of Taxi Driver" Documentary
Animated Photo Galleries that include photo montages featuring the film's music score, location shots taken during filming and Martin Scorsese at work
The

Taxi Driver

35th anniversary edition also features

movie

IQ

+sync,

which gives you the full

movie

IQ experience on your computer or iPhone by linking to your Blu-ray Disc. Once connected,

movie

IQ+

sync

will display all of the great information

movie

IQ offers on your computer screen or iPhone instead of onscreen, all while staying synchronized to the movie! - Exclusive to Blu-ray
Trailers
Synopsis:

Taxi Driver
At 26, Vietnam veteran Travis Bickle (De Niro) is slipping slowly into isolation and violence on the streets of New York City. Trying to solve his insomnia by driving a yellow cab on the night shift, he grows increasingly disgusted by the people who hang out at night: "Someday a real rain will come and wash all the scum off the streets." His touching attempts to woo Betsy (Cybill Shepherd), a Senator's campaign worker, turn sour when he takes her to a porn movie on their first date. He even fails in his attempt to persuade child prostitute Iris (Jodie Foster) to desert her pimp, Sport (Harvey Keitel), and return to her parents and school. Driven to the edge by powerlessness, he buys four handguns and sets out to assassinate the Senator, heading for the infamy of a "lone crazed gunman."
Taxi Driver 35th Anniversary Blu-ray Disc
has a runtime of
109 minutes
and is rated
18 (tbc).
Visit Sony Home Entertainment on the Web at
www.SonyPictures.com
.
Academy Award®" and "Oscar®" are the registered trademarks and service marks of the Academy of Motion Picture Arts and Sciences.
The Blu-ray Disc version of
Taxi Driver is
BD-Live™ enabled, allowing users to get connected and go beyond the disc via an Internet-connected Blu-ray player.
SONY PICTURES HOME ENTERTAINMENT
Sony Pictures Home Entertainment is a Sony Pictures Entertainment (SPE) company. SPE is a subsidiary of Sony Corporation of America, a subsidiary of Tokyo-based Sony Corporation. SPE's global operations encompass motion picture production and distribution; television production and distribution; home entertainment acquisition and distribution; a global channel network; digital content creation and distribution; operation of studio facilities; development of new entertainment products, services and technologies; and distribution of entertainment in more than 140 countries. Sony Pictures Entertainment can be found on the World Wide Web at
http://www.sonypictures.com
PRODUCT INFORMATION
TITLE
TAXI DRIVER
Release Date
6 June, 2011
Format
Retail Blu-ray
RRP
RRP £19.99
Certificate
18 (TBC)
Genre
Drama
Running Time
109 minutes (approx)