Every episode of The Larry Sanders Show out on DVD in March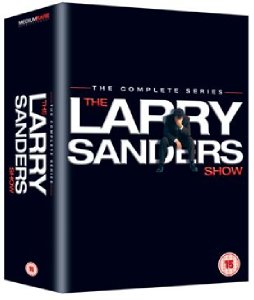 Mediumrare Entertainment are proud to announce

The Larry Sanders Show
:
The Complete Series
Available to own from
28th March 2011
"The most important sitcom of a generation" Ricky Gervais"
Starring Garry Shandling, Rip Torn, Jeffrey Tambor
The Larry Sanders Show was first broadcast in the UK on BBC 2 throughout the 1990's and was a massive hit. This multi award winning series is hailed by many as one of the greatest comedy series of all time. This series inspired the creators of 'Seinfeld, Curb Your Enthusiasm', Alan Partridge and The Office.
In 1999 The Larry Sanders Show won the prestigious BAFTA TV AWARD for Best International Programme In 1999 The Larry Sanders Show also won the American Comedy Award for Funniest Male Performer in a TV series Garry Shandling & Funniest Male Guest Appearance in a TV Series David Duchovny.
SYNOPSIS
The Larry Sanders Show was the original meta-sitcom - a wish fulfilling peak behind the chat show curtain into a hilarious world of egos, backstabbing and paranoia. It was the best, nastiest, and funniest comedy program on either side of the Atlantic during the 1990's.
DVD CONTENTS
-All 89 Full Length episodes on 15 Discs
DVD DETAILS
Cat no: FHED2841
Barcode 5030697019875
Running time: 2225mins tbc
Certificate: 15
Price: £99.99
Discs: 15
The Larry Sanders Show The Complete Series
is distributed by Mediumrare Entertainment and is available from all good DVD retailers 28th March 2011.