Tamara Drewe arrives in cinemas this September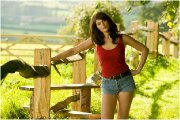 TAMARA DREWE
SET FOR UK RELEASE ON 10TH SEPTEMBER
Stephen Frears' TAMARA DREWE will open in cinemas throughout the UK on 10th September 2010 through Momentum Pictures.
Filled with lust and humour and starring Gemma Arterton (
Prince of Persia, Disappearance of Alice Creed
) as the eponymous Tamara, the film is based on Posy Simmonds' well-loved graphic novel, which in turn was inspired by Thomas Hardy's
Far From the Madding Crowd.
British stars Dominic Cooper (
An Education, Mamma Mia!
), Tamsin Greig (
Cuckoo, Sean of the Dead
), Roger Allam (
The Queen, The Wind that Shakes the Barley
) and Luke Evans (
Clash of the Titans, Sex&Drugs&Rock&Roll
) make up the supporting cast alongside Bill Camp (
Public Enemies, Reservation Road
). The film is directed by Stephen Frears (
The Queen, Mrs Henderson Presents
) and is a Ruby Films Production, produced by Alison Owen (
The Other Boleyn Girl, Elizabeth
) Paul Trijbits (
Executive Producer
;
The Wind the Shakes the Barley, Red Road
) and Tracey Seaward (
The Constant Gardener, The Queen
).
Tamara Drewe's childhood home is being sold, and her return to the rural Dorset village where she grew up causes something of a stir. Having left as an awkward teenager she returns as a smouldering femme fatale with a glamorous job and a new nose, kicking up a storm of envy, lust and gossip wherever she goes. Torn between two lovers Tamara is the ultimate modern girl but her story of love and confusion is timeless.
TAMARA DREWE had its World Premiere out of competition at Cannes Film Festival on 18th May 2010.