Affordable, wireless surveillance for today's world, featuring zero interference, a 100% private encrypted signal & SD card recording
Swann Communications have launched the next generation in wireless security, the ADW-400 Digital Guardian Camera & Recorder!
The
ADW-400
Digital Guardian Camera and Recorder
introduces unprecedented affordability for people who require a solution that not only allows them to see what's going on but also record footage.
One of the biggest inhibitors to effective wireless camera performance in past years has been interference from nearby Bluetooth devices, Web routers, microwave ovens and cordless phones. Swann's latest Advanced Digital Wireless cameras are truly Wi-Fi friendly with an encrypted point-to-point signal providing a 100 per cent secure signal that cannot be intercepted.
By combining this high quality wireless camera with a neat, compact SD card receiver and recording system, Swann have created a fantastic do-it-yourself solution that provides genuine protection for homes and businesses. It is well worth the upgrade from traditional analogue technology for the peace of mind of your family or business.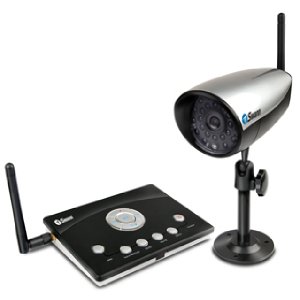 Swann's ADW-400 weather resistant, colour camera features day/night functionality and a transmission distance between the camera and receiver of up to 50 metres. It also features a built-in microphone so you can also hear what's going on.
With the 2GB SD card supplied in the kit, up to three hours of continuous footage can be stored or upgrade to a 32GB SD card to record for days on end. With the camera set to take advantage of its motion detection capability, this system can operate continuously for weeks without running out of storage.
Everything about this product is designed for easy self-installation and management. The SD card can be removed and inserted into a PC to view captured video or the recording device can be plugged into any television for live viewing or playback.
Swann expect this to be a very popular product amongst the small business community and home owners who want that extra comfort that comes with an affordable wireless security monitoring solution with a signal that cannot be intercepted. The ADW-400 has the new wireless technology so many people have been looking for.
In addition to the ADW-400 camera and SD card recorder, the kit includes a 2GB SD card, 1 metre of RCA cable, two power adaptors, four theft deterrent stickers as well as all of the mounting screws, plugs and operating instructions required for self-installation and use.
Features:
Clearer picture and better sound with the latest Advanced Digital Security.
Zero interference from Bluetooth, Web routers, Cordless phones and is truly wi-fi friendly.
Up to 165ft (50m) Wi-Fi friendly transmission.
Up to 26ft (8m) good night vision.
100% privacy from a secure, encrypted, point-to-point signal.
Easily record footage directly to SD cards up to 32GB (2GB SD card included).
Motion triggered recording to capture important activity and save disk space.
Installing wireless security has never been easier, just plug and play.
Price and Availability:
The new ADW-400 isnow available at SRP £199.99 inc. For further sales information please e-mail
selasku[at]ua.moc.nnaws