Swann Security Launches New OutbackCam - Perfect for Monitoring Remote Areas
Weather resistant anti-corrosive casing / Colour daytime viewing / Easily transfer video to PC / Viewing angle 55°/ Night vision up to 32ft
Swann Security is pleased to announce the new OutbackCam. 
The OutbackCam Camera and Video Recorder is the only product of its kind in the Swann Security range. It is specifically built to withstand the harshest weather conditions, and is the ideal security observation system for your front and back garden or any rural location. The camera and recorder are both housed in an anti-corrosive, waterproof, lockable shell meaning that recording quality will not deteriorate in bad weather.
The OutbackCam is battery operated so can be installed in any area as required. Date and Moon Phase stamping ensures that you know exactly what time of day or night the image or video was captured. With motion activated recording, the camera automatically switches on when motion is detected, meaning you don't have to wade through hours of 'dead' footage.
With night vision up to 32ft/10m and a tree strap included, you can now monitor and record almost any location!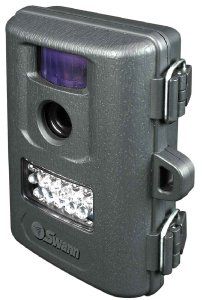 Features
Durable casing with waterproof seal and battery powered portability that can operate in most weather conditions and temperatures.
Record clear photos with the 2 megapixel camera or videos at 30 frames per second.
Powerful night vision up to 32ft/10m.
Track the exact recording time with day, time and moon phase stamping.
Set and forget with long lasting battery operations and motion activated recording.
Mounts to trees, posts or flat surfaces for areas you want to monitor such as fields, forests, yards, farms, leisure activities etc.
Price & Availability
The Swann OutbackCam has a SRP of £99.99 inc and is available from Maplin or for further sales information please email:
selasku[at]ua.moc.nnaws