Swann Introduces Doorphone Video Intercom with LCD Colour Monitor
Easy to use and install video doorphone allows you to see hear and speak to visitors before you open the door
Swann has released its latest do it yourself doorphone with video and intercom which introduces affordable security and convenience for monitoring the arrival of known and unknown visitors.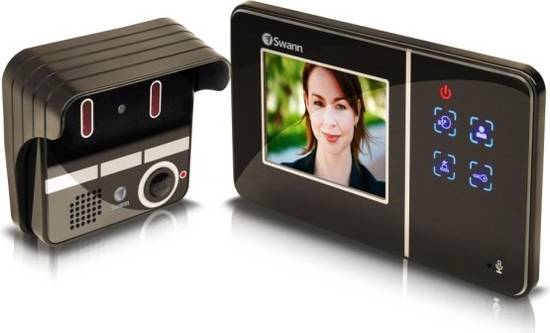 Featuring stunning video quality from a sharp camera and a 3.5 inch LCD colour screen, the easy to install Swann Doorphone Video Intercom is ideal for all home and small business environments where you want to know who is at the door.
According to Jeremy Stewart, Swann's Vice President Global Marketing, "the Swann Doorphone Video Intercom introduces the invaluable peace-of-mind that comes with being able to see, hear and speak to your visitors before opening the door".
"This is an affordable and highly functional video doorphone solution that we are confident is going to be hugely popular," Mr Stewart said. "Its extensive range of features will allow all sorts of homes and small businesses to feel secure at all times knowing they can screen visitors more effectively".
"Being able to see who is at the door in crystal clear LCD colour display as you speak to them is a key part of staying safe in the home and something that our customers have been asking for. With this product we have delivered on that".
"Meanwhile, infrared LEDs in the camera allow the Swann Doorphone Video Intercom to offer 24 hour protection with the ability to see at night and in low light up to three metres. When you add the fact that these products are engineered from the ground up to be easily installed and simple to operate, we are confident this product will be ideal for all sorts of visitor screening applications."
With a stylish black finish, Swann's Doorphone Video Intercom also looks as good as it performs and will slot neatly into a wide variety of home and business décors. Available from major electronics and home retail outlets, it comes with all of the mounting brackets, screws, plugs, connecting cable, power supply and everything else you need to get started.
Price & Availability
Swann's Doorphone Video Intercom retails for £129.99. and is available from Maplin