Swann Launches New SW346-7MC Home and Business Monitoring Kit
A crystal clear colour security camera and 7 inch Colour LCD Monitor to keep you safe.
Swann Security is pleased to announce the newest generation of the SecuraView - the SW346-7MC Home and Business Monitoring Kit.
The Home and Business Monitoring Kit is designed to provide maximum security for your home or business. See and hear what is really happening with the 7 inch high resolution colour LCD screen. The monitor is connected to the camera via a 60ft cable, and can be operated using the remote control provided in the pack. Mounting the camera and monitor to a wall or ceiling is easy with the mounting screws and plugs included. With a modern and stylish finish, this kit is perfect for anyone wanting an affordable starting point for their security needs.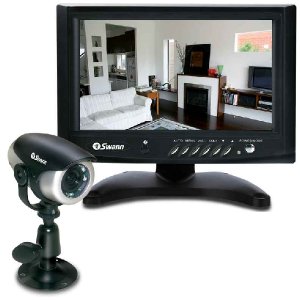 The colour camera provides a dual viewing mode; colour video during the day and black and white at night. The remote control in the pack provides easy operation. With the LCD image flip option, mount the LCD monitor upside down or sideways, and flip the video around to suit you.
Upgrade the kit by adding a second camera and set the kit to automatically switch between camera views at 4 to 8 second intervals. The built in microphone allows you to hear conversation and other sounds. Save power by using the auto timer and the unit will turn itself on and off when it is not needed.
Included in the kit is the PNP-51 camera, 7-inch LCD monitor and accessories, remote control, RCA to RCA cable, BNC cables, operating instructions, mounting screws and plugs and theft deterrent stickers.
Features:
Flexible mounting options for LCD screen and camera
Automatically switch camera views at 4 to 8 second intervals
High resolution colour LCD monitor and camera
Dual viewing mode for day and night
LCD image flip option
Discreet, small footprint and stylish finish
Box Contents:
PNP-51 camera
7" LCD monitor and accessories
RCA to RCA cable 3ft/1m
BNC cables 60ft/18m
Power adapters
Remote control
Mounting screws and plugs
Operating instructions
Theft deterrent stickers x 4
Price & Availability:
The SW346-7MC Home and Business Monitoring Kit has a SRP of £129.99 inc. For further sales information please email
selasku[at]ua.moc.nnaws