Alice's Adventures in Wonderland re-released on DVD this March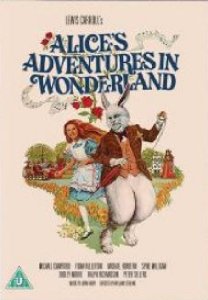 ALICE'S ADVENTURES IN WONDERLAND
Re-released on 8 March 2010
with a stunning new sleeve to coincide with the theatrical release on 5 March 2010 of Tim Burton's
ALICE IN WONDERLAND
starring Johnny Depp, Oracle Home Entertainment are thrilled to announce the forthcoming DVD release of
ALICE'S ADVENTURES IN WONDERLAND
, the double BAFTA award winning version of Lewis Carroll's fantasy novel, widely regarded as the most lavish and faithful adaptation of one of the most enduring children's stories of all time. 
Boasting a star studded international cast of Academy Award Winners, nominees and BAFTA recipients including
Peter Sellers
(
The Pink Panther, Dr Strangelove, The Goon Show
) as the March Hare,  
Michael Crawford
(
Some Mothers Do Ave 'Em, Hello Dolly!
) as the White Rabbit,  
Dudley Moore
(
10, Arthur, Bedazzled
) as Dormouse,  
Spike Milligan
(
The Goon Show, Adolf Hitler-My Part in his Downfall
),  
Sir Michael Hordern
(
Where Eagles Dare ,Gandhi
),
Sir Ralph Richardson
(
Greystoke: The Legend of Tarzan Lord of the Apes, Doctor Zhivago
) &
Fiona Fullerton
(
View to a Kill
) as Alice. 
Filmed to mark the centenary of the completion of the Alice novels, this extravagantly lush British spectacle, which brings
Sir John Tenniel
's famous illustrations enchantingly to life with a bewitching score by James Bond composer
John Barry
and BAFTA winning cinematography by
Geoffrey Unsworth
(2001: A Space Odyssey, Superman), is presented in its original aspect ratio 2.35.1 Todd-AO 35 'Scope. 
Alice's adventure comes to life on the silver screen like you have never seen before!
Distributed on behalf of Oracle Home Entertainment by Eureka Entertainment.
DVD Catalogue No:
ORA40316
DVD Barcode:
5060000403169
DVD
RRP:
£7.99
Release Date:
8 March 2010
Certificate:
U
Run Time:
92 min. Approx.
Format:  
2.35:1 OAR, Colour
Genre:
Musical
Director:
William STERLING
Year:
1972
Country:  
UK
Language:
English