Next year in Eureka's Masters of Cinema Blu-ray love-in
Eureka Entertainment
might well send you into 2013 with a grin on your face. Arriving in March and April next year are six new titles in the
Masters of Cinema
series.
From French New Wave and Italian art cinema classics to lesser known gems from France and Japan, big name directors Claude Chabrol, Michelangelo Antonioni, Henri-Georges Clouzot, Yūzō Kawashima and Sadao Yamanaka are part of this new batch.
"In March, we welcome legendary French director Claude Chabrol into the series for the very first time, with a back-to-back French New Wave double-bill, Le Beau Serge [Handsome Serge] and Les Cousins [The Cousins], alongside fellow French filmmaker Henri-Georges Clouzot's exquisite comedy-thriller The Murderer Lives at 21 [L'Assassin habite au 21]."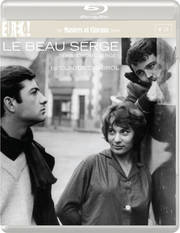 More cinematic treats follow in April with a stunning new presentation of Michelangelo Antonioni's majestic slice of Italian art cinema La notte [The Night] as well as rare treasures in the form of a blazing new restoration of Yūzō Kawashima's utterly thrilling but long-unavailable-in-the-west Bakumatsu taiyō-den [aka A Sun-Tribe Myth from the Bakumatsu Era] and the collected release of fellow Japanese filmmaker Sadao Yamanaka's entire surviving works."
The Managing Director of
Eureka Entertainment
adds,
"Across six standout releases, world and UK home viewing and Blu-ray premières abound, with new restorations aplenty, as we continue our quest to release the very finest in world cinema, using the very best available materials, all with a meticulous attention to design and detail."
Excited? Just a little bit? We are!