Anime Review Roundup
More Beez Anime Legends
It's only been a week since the first announcement of Beez' long awaited budget line, and already there's more good news to celebrate. Andrew Partridge of Beez has confirmed on several forums that Beez aims to release two collections a month, and HMV have already listed February and March's output.
Gundam Seed Part 2
Eureka 7 Part 1
Eureka 7 Part 2
Gundam Seed Destiny Part 1
The amazing thing is that HMV have cut the preorder price below that of Play, and you can pick up these sets, as well as the previously announced Wolf's Rain and Gundam Seed Part 1 for £14.99. Now you have absolutely no reason not to indulge. Although I have a reason, I'm not a fan of mecha and I already have Wolf's Rain…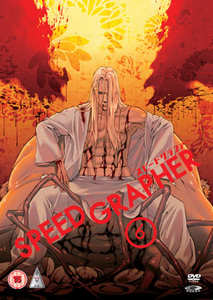 My reviewing week began with the final instalment of Speed Grapher. It's rare in my experience for a Gonzo show to get a satisfying ending, but if any show has had a measured build up and has set the scene for a full-blown finale, it's this one. Speed Grapher is just the sort of show that you're looking for if you want something edgy, subversive, and mature, but is still classic anime at its heart. Find out just how much of a classic Speed Grapher will be by reading my review of
Speed Grapher: Volume 6
. And don't forget, MVM release the boxset this coming January.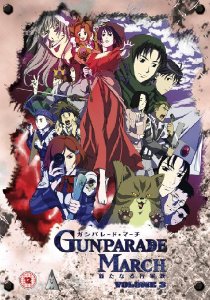 It was right up to date with my second review of the week, as I ravenously tore into
Gunparade March: Volume 3
. Yes, I have admitted a couple of paragraphs ago that mecha anime isn't my favourite genre, and Gunparade March has whopping great mecha in it. It also has a bunch of angsty teens fighting aliens to save the world. But that's just a smokescreen. What Gunparade March really is, is a love story between two mismatched individuals, Mai Shibamura and Atsushi Hayami. This is the final volume of the anime, and we get to learn if true love finally blossoms for the pair, or if eternal solitude awaits them both. In giant walking robots.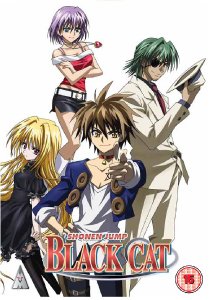 Finally it was the turn of Stuart McLean to turn his attention animewards. He got the
Black Cat boxset
to review, six discs worth of animated assassin fun from Gonzo animation. Do we need the standard Gonzo storyline routine again? A dark future following a societal collapse, mysterious conspiracies, a bunch of characters with odd powers, and plenty of truths to be revealed. Truth be told, I wasn't a fan when the individual volume releases rolled around, but perhaps Stuart has found something of great merit that I missed originally. See if this is the greatest story ever told by reading Stuart's review.
It's all MVM again, and Speed Grapher: Volume 6 has been out for ages. Gunparade March: Volume 3 is released on the 7th December, and the Black Cat Boxset is available from today.