Anime Review Roundup
Begun, the Summer Wars Have
There weren't any anime reviews to round up last week, hence no review roundup, but this week it's back to normal service, with three reviews of anime new and old for you to peruse. But I guess I missed out on mentioning last week that Manga Entertainment have licensed Summer Wars. This is the next film from the director of The Girl Who Leapt Through Time, Mamoru Hosoda, and as such, it's a prospect to be salivated over. Following a theatrical release, quite appropriately this summer, Manga will be releasing the film to DVD and Blu-ray.
More Gundam!
Yes, another Gundam series is inevitable. It's as sure as the changing of the seasons, as constant as the Northern Star, which means it will probably shift location in 20,000 years and be disrupted by climate change. But this year, we are due Gundam Unicorn, and unlike all the Gundams before it, this will be a simultaneous worldwide release on Blu-ray. Now in the past, Worldwide usually meant the entirety of the United States and nowhere else, but this time, Andrew Partridge at Beez has hinted on the
Anime UK News forums
that we Britishers won't be left out.
Even More Gundam!
If you read the linked forum post, you will have noticed that to coincide with the release of Gundam Unicorn, Bandai will start streaming the earlier Gundam shows on websites like Crunchyroll and Anime News Network, so if you have never experienced the giant combat robot show before, you'll be able to do so for the price of a broadband connection. As usual, it's been up in the air whether we in the UK will get to see these streams, the initial press release from Bandai listed North America and Europe, but this was hastily reworded to remove Europe, but once again Andrew Partridge intimates that we in the UK won't miss out this time.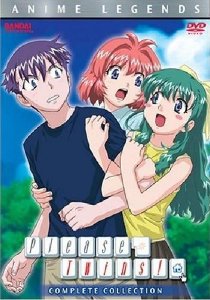 My first review of the week was for
Please Twins: The Complete Collection
. This is a sequel to Please Teacher, and just like that earlier title, wanders close to taboo territory, in a romantic comedy, light-hearted entertainment sort of way. Three orphans wind up travelling down memory lane courtesy of a shared photograph, and they meet up at a house in an idyllic town. Two girls, one boy, and one of the girls is the boy's twin sister, the other may just be the girl he falls in love with. If only he knew which was which. You'll probably have one of two reactions. You'll cringe, or you'll cringe and then decide you have to see what happens. I had the latter reaction. See if I made a mistake when I decided to watch Please Twins by reading my review.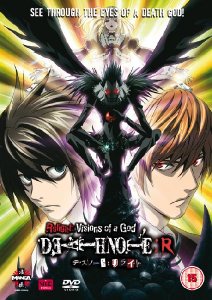 My final review was for
Death Note Relight: Visions of a God
, and I was cringing again, although this time for wholly different reasons. Death Note is the multimedia phenomenon that has swept the anime and manga world, even spinning of live action movies, and last year we saw the Death Note series released across 9 discs. But you know how businessmen are, once they have something successful, they have to get as much of a return as possible. Death Note Relight is the first of two films that re-edits the series into features. In this case 24 episodes get dehydrated so they can fit into a 2-hour runtime. That sort of approach has been successful before, but very rarely indeed. On the bright side, I have come up with a verbal image that will forever put you off your breakfast cereal. Click on my review to turn your stomach.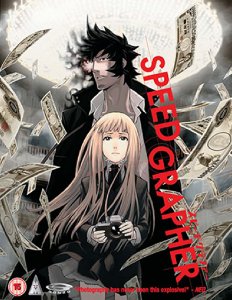 We round things off with Stuart McLean's review of the
Speed Grapher Complete Series Boxset
. I did warn you last year after I went bargain bucket diving for the single volumes that this set was imminent, and after Matthew Smart's reviews and my own, you now have another reason to invest in this fantastic future dystopian series, steeped in decadence and perversity. Click on Stuart's review to find out what he made of the show, and don't be surprised if the answer is positive. Good writing transcends reviewer idiosyncrasies.
Bandai Entertainment released Please Twins a good few years ago, but it's one of those shows that you will have to import. I got mine from Region 1, where it's retailing at under the customs limit if you are interested. MVM released the Speed Grapher boxset in the UK a couple of weeks ago, so all you have to do is whip out that credit card and point and click. Manga Entertainment will release Death Note Relight: Visions of a God on the 8th February 2010, and you will note that I am refraining from any exhortations of expenditure.