Yo Gabba Gabba out on DVD in October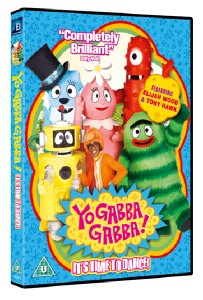 "Completely Brilliant" Daily Mail
"Yo Gabba Gabba Rules!" Guardian
YO GABBA GABBA
It's Time To Dance!
Join
DJ Lance Rock
and friends
Muno, Foofa
,
Brobee
,
Toodee
and
Robot
Plex
in their first DVD release
It's Time to Dance!
Available on DVD from the 5th of October 2009. 
Get ready to boogie with the gang in  four classic episodes packed with fun filled songs- such as :
"Eat"
including
"There's a Party in My Tummy"
,
"Dance"
featuring
"It's time to Dance!"
,
"Sleep"
and
"Move"
featuring special guests including
ELIJAH WOOD(
Lord Of The Rings) and
TONY HAWK
(Professional Skateboarder). 
Hosted by DJ Lance Rock, Yo Gabba Gabba!™ is the coolest kids show on the block. It combines a unique mix of upbeat music and infectious songs in a vibrant world where lively puppet characters come to life to teach simple life lessons and meaningful messages while they dance and play in a mix of live segments. 
Currently a favorite on Nick Jr and T4, has captured the hearts of children and proven to be a hit with adults alike, it's not hard to see why Yo Gabba Gabba!™ is a must have at just £12.99 RRP. 
You Definitely Gotta Havva
Yo Gabba Gabba!™