Cook It Together by Annabel Karmel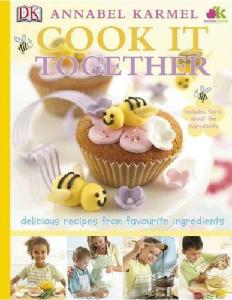 Publication Date: 5th March 2009 Price: £7.99
'Cooking is great for boosting your child's confidence and inspiring creativity. Having fun together in the kitchen is a wonderful way to spend an afternoon and if you are lucky it can be a good way to encourage a fussy eater to try new foods. And you never know, you might ignite a passion for cookery in your little ones that goes way beyond licking the spoon.'
Annabel Karmel, MBE
Did you know that strawberries are the only fruit with seeds on the outside, or that coco pods grow to the size of melons?
Cook It Together
is the third in a successful series of cooking books for children by leading author and children's food expert Annabel Karmel. Focusing on ten top ingredients; tomatoes, sweet corn, potatoes, rice, bananas, strawberries, apples, honey, chocolate and yogurt, children can learn fascinating facts to help encourage them to think about what they are eating and where each ingredient originates from.
Whether it's grown in fields or made in hives Annabel includes the facts about each ingredient, there is even a section on flavours where children can learn all about different herbs and spices. All recipes are illustrated with step-by-step photography showing exactly what to do at each stage of the recipe and there are fun ideas for presenting the finished dish like Salmon Teriyaki on Skewers and Marzipan Bees on top of mini honey cakes. Annabel provides a few recipes for each ingredient which include plenty of measuring and mixing and lots of different skills that will help them grow into confident cooks. There are also clearly marked steps for when an adult is needed to help out.
Cook It Together
[small]has a balance of sweet and savoury recipes so that children can learn how to make a selection of healthy balanced dishes, from tomato bruschetta and paella to strawberry cheesecake and fruit brulee. This book will show children that healthy eating can be fun and educational, there are also tips from Annabel on each page to guarantee the best results.
Other children's titles written by Annabel, published by DK are:
Children's First Cookbook
and
Mummy and Me Cookbook




Annabel Karmel
Annabel is a leading author on cooking for children and has written 18 best-selling books that are sold all over the world. She is an expert in devising tasty and nutritious meals for children without the need to spend hours in the kitchen.
Annabel writes for many newspapers and magazines and appears frequently on radio and TV as one of the UK's experts on children's nutritional needs. She has her own range of healthy foods for children in supermarkets. Recently she has been introducing healthy meals to popular attractions and her food is now served in all the UK theme Parks including Legoland and Thorpe Park, she has designed the new menus for Butlins and the largest holiday park group in the UK Haven Holidays where she also runs cookery classes for the children. Annabel was awarded an MBE in the 2006 Queen's Honours List for her outstanding work in the field of child nutrition.