Doghouse out in October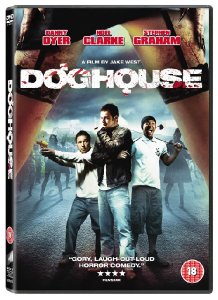 Available on Blu-ray™ High-Def and DVD on 12 October, 2009
The battle of the sexes just got bloody in the outrageously funny comedy-horror,
Doghouse
, from award-winning director Jake West (
Evil Aliens
) and starring Danny Dyer (
The Football Factory, Severance
) and BAFTA Award-winner Noel Clarke (
Adulthood,
Kidulthood
).
Doghouse
is released on Blu-ray and DVD on the 12 October, 2009, from Sony Pictures Home Entertainment.
The cast boasts a host of other British talent including Stephen Graham (
The Damned
United, This Is England
), Lee Ingleby (
Place of Execution
), Emil Marwa (
East is East
), Keith-Lee Castle (
Young Dracula
), Neil Maskell (
Rise of the Footsoldier, The Football Factory
), Christina Cole (
Lost in Austen
), Adele Silva (
Emmerdale
), Tree Carr (
Evil Aliens
), Emily Booth
(Zone Horror)
and Billy Murray (
Rise of the Footsoldier, Eastenders
).
The DVD and Blu-ray are packed with a host of bonus material including hysterically funny bloopers, deleted scenes, an audio commentary and a Making Of feature.
Synopsis:
Danny is handling his divorce badly. His mates drag him off for a boys' weekend in the country, but what was supposed to be a simple, boozy getaway quickly goes horribly wrong. The boys find themselves holidaying in a village overrun by psychotic, homicidal women who have fallen victim to an airborne toxin that has turned them into man-hating zombies and seven of these deranged women, each with an axe or two to grind, are stalking the streets. Somewhere out there are dozens more. Maybe hundreds…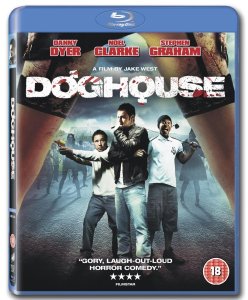 Doghouse
is an original screenplay by prolific author and graphic artist Dan Schaffer (
Dogwitch, Indigo
Vertigo
). 
DVD and Blu-ray Special Features:
Bloopers
Deleted Scenes

Doghouse

Audio Commentary
Making Of
Pre-Production Gallery
Stills Gallery
4 TV Spots