Animated Teletubbies feature Ready Steady Dance out in September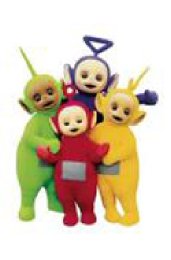 ANIMATED TELETUBBIES IN SPECIAL DVD FEATURE
Are you READY? Are you STEADY? Then DANCE with the Teletubbies!
The
Teletubbies
are back, but not as you know them. For the first time ever, the
Teletubbies
have been animated for a special DVD feature on
"An",
from BBC Children's DVD available on 7th September 2009, priced at £9.99. 
Boogie on down with
Tinky
Winky, Dipsy, Laa-Laa
and
Po
in a specially produced, never before seen flash animated video exclusive of
"Follow My Leader",
one of three special dancing DVD extras. 
The DVD also contains two well loved live action favourites "
Dance with the Teletubbies"
, and
"Ready Steady Go"
, episodes your little one will want to watch again and again. 
Intent on replicating the success of their massive No. 1 hit 'Teletubbies say Eh-Oh'- Tinky Winky, Dispy, Laa Laa and Po have confirmed the release of a brand new digital single and video - 'Follow My Leader'. Their new material will be available to download from iTunes and other leading digital stores from 24th August, followed by the re-release of their hugely successful album on 7th September which will feature bonus remixes. 
Dance is great exercise and good for physical coordination. But another key benefit of seeing the
Teletubbies
dance is that it gives children the confidence to express themselves. Children who join in the fun develop the self-belief to explore the world around them. 
Join in the dancing fun with the following funky episodes on
"Ready Steady Dance"
: 
Dance with the Teletubbies
Tinky Winky, Dipsy, Laa-Laa
and
Po
just love to dance. When the wind blows and the magic windmill turns, its time for the
Teletubbies
to connect with the world of real children who also love to dance!
Ready Steady Go!
Dance and sing with the
Teletubbies
as they learn "Heads, Shoulders, Knees and Toes", play copying games, do exercises and discover how their bodies can move.
Extras
Brand new flash animated video to accompany "Follow My Leader" plus "All Sorts" and "Bendy" live action dances.
RELEASE DATE:
  7th September 2009
DURATION:
103 mins
RRP:
£9.99
CAT. NUMBER:
BBCDVD2913