Anime Review Roundup
The 60 Billion Double Dollar Question Has An Answer
It was
Anime Expo
in the US this weekend just past, and there has been so much news that I have ignored… Well, it's hard to get enthused about shows that won't be released for six to twelve months in the US, and another 12 or so months later in the UK, if ever. I don't know about you, but I just can't work up the enthusiasm for the Evangelion movies, especially as they appear to be news each week and every week. Funimation announced their new Shodojo anime community site, where fans can gather, congregate and watch shows for free. Not all that thrilling when Crunchyroll already invented that, and Funi's web portal still remains closed off to us Brits.
And then someone from
AnimeonDVD
took this video with a communications device sold by a company fronted by Steve Jobs (no product placement here!), and put it on Youtube and linked to it on the AnimeonDVD forums. Yes… that is the trailer for the long-awaited, much anticipated, Trigun movie.
Suddenly I'm in love with anime again, in a way that I haven't been for years. And this morning I find out that Production IG would like to make Season 3 of
Ghost In The Shell: Stand Alone Complex
. Squee!
Time of Eve: Episode 5
Last week I finally got around to linking to some online anime, and raved about some of the shows that I am currently watching. I could have waited a week and got all my raving done in one go, as last week the fifth episode of the awesome Time of Eve was released to the world. Click the link on the right to watch the latest instalment of one of the most thought provoking sci-fi anime I have ever seen, and also one of the most visually pleasing. Also Kadokawa put up episodes 9-12 of Haruhi. Episode 12 is the new one.
Clips Galore!
Today sees the release of two features from Manga Entertainment, Hayao Miyazaki's proto-Totoro, Panda! Go Panda!, and the first Bleach feature film. Manga Entertainment have also supplied clips for your perusal, so you can see what all the fuss is about. Or you could read the reviews on this site.
Panda! Go Panda!
Clip 1
Clip 2
Clip 3
Clip 4
Bleach the Movie: Memories of Nobody
Clip 1
Clip 2
Clip 3
Clip 4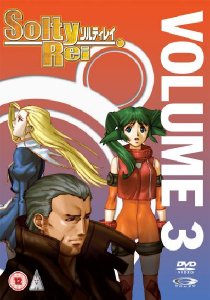 It was sweltering hot last week, the neighbours were blaring out Chav Radio from speakers made of cardboard, stinking up the street with barbecues, getting drunk and emotionally spontaneously combusting in as loud and obnoxious a manner as possible. Not only did I not go postal, I also managed to get some reviewing done. That's dedication! It's also one major reason why I love cold and wet weather. My first safe anime harbour from all this disgusting behaviour was
Solty Rei: Volume 3
. This is a pleasant, inoffensive sci-fi action anime from the masters of the genre, Gonzo, and it's been a nice, if unmemorable diversion, until Volume 3 came along. The story takes an abrupt turn for the dramatic in this volume, and that veneer of film noir that it was cloaking itself in for stylistic effect, suddenly looks terribly appropriate.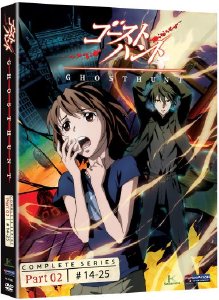 It seemed to be a week for abrupt turns, as I also managed to look at the second half of Ghost Hunt. The first half of this show was pleasantly spooky, some interesting mysteries that led the show's protagonists into worrying situations, perplexing supernatural quandaries, that while they got the heart beating a little faster, certainly didn't require a change of underwear. It turns out that they saved all that for the second half of the series; three stories that turn up the scares and make you regret watching them with the lights off. This is coming from a man who usually watches horror as a cure for insomnia. Read more in my review for
Ghost Hunt Series 1 Part 2
.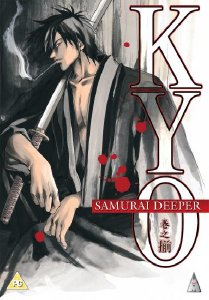 I ought to have made an abrupt turn at my DVD player. You can have all the right ingredients, swordplay, samurai, demons, a cute damsel with a gun, a protagonist with multiple personality disorder, and a quest to complete, adventures to brave, and foes to defeat. You can have all that, but if you don't have the right chef, you won't necessarily get an appetising dish. But you would have though that the director of Ranma would have been the right chef. Read more about the hash that he made in my review of
Samurai Deeper Kyo: Volume 1
.
MVM release Solty Rei: Volume 3 and Samurai Deeper Kyo: Volume 1 on the 13th of July, the same day that Manga Entertainment release Ghost Hunt Series 1 Part 2.