Law & Order Season 6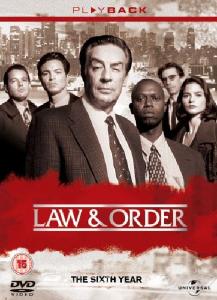 Emmy® Award Winning TV Series
LAW & ORDER SEASON 6
"In the criminal justice system, the people are represented by two separate yet equally important groups: the police, who investigate crime, and the district attorneys, who prosecute the offenders. These are their stories."
Justice will be served on the
16th February 2009
when
Law & Order Season 6
is released onto DVD. Set in New York City, the series follows the professional lives of several police officers and prosecutors who represent the public interest in the criminal justice system. The longest running crime series, second longest-running drama series in the history of American broadcast television and winner of the 1997 Emmy® Award for Outstanding Drama Series;
Law & Order
is the most successful brand in the history of primetime television and has featured notable guest stars over the years including Julia Roberts, Samuel L. Jackson, Chevy Chase, Tom Berenger, Claire Danes and Philip Seymour Hoffman.
In Manhattan's 27th Precinct the crime rate is high, murder and corruption pollute the city and it's the job of Vietnam veteran Senior Detective
Lennie Briscoe
(
Jerry Orbach
-
Tony Award® winner) and conservative and devoutly Catholic Junior Detective
Rey Curtis
(
B

enjamin Bratt
-
Miss Congeniality
) to investigate serious crimes, collect evidence, interview witnesses and report to Police Commanding Officer Anita Van Buren (
S. Epatha Merkerson
- Golden Globe® and Emmy Award® winner and star of
Terminator 2: Judgment Day
and
The Cosby Show
). Their evidence often leads to the arrest of one or more suspects at which point the case is handed over to the prosecutors of the Manhattan District Attorney's office, the brilliant legal mind Executive Assistant District Attorney Jack McCoy (
Sam Waterston -
Golden Globe® and Emmy Award® winner), idealistic and outspoken Assistant District Attorney Claire Kincaid (
Jill Hennessy
) and the stern and unforgiving District Attorney Adam Schiff (
Steven Hill
). They discuss deals, prepare the witnesses and evidence, and conduct the prosecution trial.
Highlights from this season include episodes '
Deceit
' - When a young attorney is murdered shortly after he decides to file a sexual harassment claim against his employer, Briscoe and Curtis quickly discover that the alleged harasser and his wife each have an excellent motive for murder, '
Atonement'
- The investigation into the murder of a model with a passion for cocaine and partying focuses on the men in her life -- a nightclub owner, a basketball player, a photographer and a limousine driver, '
Pro Se'
The investigation into multiple homicides at a clothing store leads to the arrest of a schizophrenic who presents McCoy with a formidable opponent when he decides to represent himself, and Season finale '
Aftershock'
- After Briscoe, Curtis, McCoy, and Kincaid witness the execution of a criminal they brought to justice, their unique reactions to the event culminate in personal tragedies for each of them.
This fantastic collection is for fans of the show and newcomers alike. Every nail-biting episode can be yours to own and analyse when
Law & Order Season 6
is released on DVD on
16th February 2009
.
Visit
www.universal-playback.com
for more information
Golden Globe® winning
Law & Order Special Victims Unit Season 7
is also released on
16th February 2009
. Set in 16th Precinct of the New York City Police Department
SVU
is currently the highest-rated series of the
Law & Order
franchise, and is one of NBC's top rated shows.
- ENDS -
Law & Order London
is coming soon, starring
Bradley Walsh
(
Detective Sergeant Ronnie Brooks
),
Jamie Bamber
(
Detective Sergeant Matt Devlin
),
Harriet Walter
(
Detective Inspector Natalie Chandler
),
Ben Daniels
(
Senior Crown Prosecutor James Steel
),
Freema Agyeman
(
Crown Prosecutor Alesha Phillips
) and
Bill Paterson
(
Crown Prosecution Service Director George Castle
).
Release Date:
16th February 2009

Credit:
Universal Playback
Running Time:
17 hours, 22 minutes approx.
Cert:
15 (UK only)
RRP:
£44.99
Cat No:
8254926
Barcode:
50505-8254926-3
Law & Order Season 6: Film © 1995/1996 Universal Studios. All Rights Reserved. Packaging Design © 2008 Universal Studios. All Rights Reserved.
Universal Pictures UK is a division of Universal Pictures International, which is part of NBC Universal - one of the world's leading media and entertainment companies in the development, production, and marketing of entertainment, news, and information to a global audience. Formed in May 2004 through the combining of NBC and Vivendi Universal Entertainment, NBC Universal owns and operates a valuable portfolio of news and entertainment networks, a premier motion picture company, significant television production operations, a leading television stations group, and world-renowned theme parks. NBC Universal is 80%-owned by General Electric, with 20% controlled by Vivendi Universal.
Golden Globe® is the registered trademark of the Hollywood Foreign Press Association. Universal Pictures is independent from the Hollywood Press Office.