Sixth season of Little House on the Prairie hits DVD in May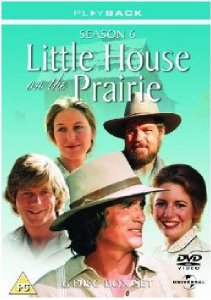 LITTLE HOUSE ON THE PRAIRIE - SEASON 6
SPECIAL COLLECTORS EDITION
Available on DVD from 3rd May 2010
Enter the wonderfully carefree world of Charles Ingalls and family with the release of
Little House on the Prairie
-
Season 6
on DVD from
3rd May 2010
courtesy of
Universal Playback
. Based on the popular "Little House" book series by Laura Ingalls-Wilder, Season 6 follows the charming farming lives of Charles and Caroline Ingalls (Michael Landon and Karen Grassle), and their three young daughters; Mary, Laura and Carrie, who live in a quaint little house on the banks of Plum Creek near the picturesque town of Walnut Grove during the late 1800s.
Little House on the Prairie - Season 6
sees series narrator Laura entering early adulthood as her simple life becomes increasingly complicated. As well as Laura's loving family, other wonderfully rounded characters make up the friendly community of Walnut Grove, including teacher Miss Beadle, Dr. Hiram Baker, Rev. Robert Alden, Mr. Hanson (of the Hanson lumber mill), and the well-to-do Olesons, owners of the local mercantile, and also the primary rivals of the Ingalls family. Family friends include the Edwards family, the Garvey family and the Carters.
This season, a new school teacher arrives in Walnut Grove with her brother Almanzo Wilder who immediately catches Laura's eye. Meanwhile, the Ingalls are in the process of adopting little Albert, but his biological father begins to oppose the idea, Nels Oleson is reunited with his sister and a faith healer comes to town and convinces the people of Walnut Grove to believe in him, which leads to some tragic results. In other events in the town, Caroline's father discovers a hidden talent as a storyteller following the death of his wife and criminals take Laura and Mary hostage, but they are set free by Charles, who disarms the kidnappers. Perhaps the biggest question of all, though, how will Charles react to Almanzo when he asks for the hand of his daughter in marriage?
Little House on the Prairie - Season 6
is available on DVD from
3rd May, 2010
.
Visit
www.universal-playback.com
for further information.
Title:
LITTLE HOUSE ON THE PRAIRIE
SEASON 6
Release Date:
3rd May 2010
Format:
DVD
Cert:
15
Discs:
1
Cat:
EAN:
DP:
RRP:
Copyright line:
. All Rights Reserved.
Special Features:
Synopsis: