Anime Review Roundup (Updated)
Climb the Tower Again
Just a reminder that Gonzo have got together with Crunchyroll to bring the second season of The Tower of Druaga to PC screens the world over. It was a great way to kick off the online anime revolution last year, when The Tower of Druaga: The Aegis of Uruk was released. It was a rather spiffy RPG show, based on a popular computer game, which blended tongue in cheek parody, some decent drama and a lot of action, to create something well worth watching. Hero Jil gathered a band of fellow adventurers to climb the legendary Tower of Druaga to defeat the eponymous deity and bring peace to the land, and also have a wish granted. The trouble in the end turned out that there was only one wish. So Jil wound up betrayed by his own brother Neeba, and by fellow traveller Kaaya, who took the wish and ascended, and by the king Gilgamesh who took credit for his heroics. Now, six months later, he's been brooding over his loss and staring at the walls of an inn, when into his life comes a young girl with magical powers, being chased by the king's guards. She shows him a vision of Kaaya, mortally wounded, and tells him that the only way to alter the future is to climb the tower once more. You can watch this exciting follow up,
The Tower Of Druaga: The Sword of Uruk
, weekly on Crunchyroll. Episode 1 is available to stream now.
Death Note Special Editions In Limbo
Anime fans have been revelling in the Death Note phenomenon since the series made its UK debut last year. We're halfway through the run, and Manga Entertainment, in association with Zavvi, have been bringing exclusive Special Edition DVDs to UK fans.
However, with Zavvi going into administration, those exclusive Special Editions will no longer be released. Read Manga's
press release here
.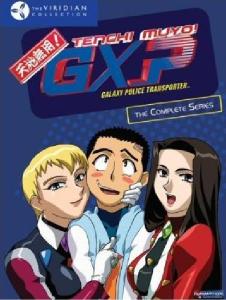 Just the one anime review as well last week, as I finally got to look at
Tenchi Muyo: GXP
courtesy of a judicious import. The series is enticing, offering an alternate look at the Tenchi universe, courtesy of a hapless young boy named Seina Yamada, who bad lucks his way into the Galaxy Police, where he finds himself being used as bait in a mission to capture pirates, and winds up surrounded by a bevy of alien beauties. But the packaging left a lot to be desired. Read more about my love hate relationship with Tenchi Muyo: GXP by clicking the link.
Funimation's Tenchi Muyo GXP is available for import from all reputable Region 1 importers right now.