Anime Review Roundup
The End of Free Anime!
From the beginning, the Crunchyroll site was all about free anime for the people. That's understandable given that it was a pirate website at first. But a sudden infusion of venture capital, and a legitimate licensing deal with Studio Gonzo changed that. They ditched the pirate streams, and put two legitimate shows on the site, followed quickly by a third. But that 'free anime' ethos never left the site. You could always watch the anime, subsidised by advertising at 360p resolution, and if you wanted the ads off, and a higher resolution, you bought a subscription. As more and more anime studios got on board, Crunchyroll cemented that approach, raising the free offering resolution to 480p. I had thought that things would change once Crunchyroll was sold to companies like Warner and Ellation, but to their credit, the free anime for all ethos was retained, even when the ad subsidised offering started being presented in the same 1080p as the subscription ad-free streams.
But last year, Funimation bought Crunchyroll and it all fell under the Sony umbrella. The difference here was that Funimation had their own anime streaming service in Funimation NOW. This is where the competition authorities got involved but ultimately the deal was approved. This is where the clichéd corporate lie (a lie so obvious that they really should stop using it), that the end user experience would never change was wheeled out. If nothing was going to change, they would never bother with the merger to begin with. It's all about money of course, making more of it, and this is done through three ways, through consolidation, through lay-offs, and through marketing your product to maximise profit. Sure enough, the Funimation NOW service is being wound down, with its content and its subscribers being transferred to Crunchyroll, and obviously you don't need twice the employees to do 'half' the work. Now it's time to change the user experience.
From this spring season of anime, Crunchyroll will adopt the Funimation NOW model of streaming. No More Free Anime! While a new series is being released, only the first three episodes of that series will remain free to view on an ad-supported model. Any episodes past that point will be hidden behind a paywall, and once all episodes of that series have been released, the first three episodes will become subscription only as well. That's only for select series by the way; the rest of the new season content will be subscription only, with no free episodes at all. At the time of writing, Crunchyroll say that existing content, shows that have been streamed up to this point, will still exist in the ad-supported model, free to view, but I wouldn't count on that state of affairs to last long. It's worth noting that while Crunchyroll has some 5 million subscribers, plus the new subscribers transferred over from Funimation NOW, they've had over 100 million users of the ad-supported model. They're obviously hoping that this move will convince enough of them to now subscribe to offset the lost advertising revenue. I doubt that they're expecting 100 million new subscribers overnight though.
Personally, I always used Crunchyroll like I use free to air TV broadcasts, a try-before-you-buy service for DVDs and Blu-rays. I guess the studios will have to up their whackamole game with pirate anime websites in the future. Now all Crunchyroll have to do is to fix their broken and bugged player and apps, institute some customer service, especially when it come to managing payments and subscriptions, and pay their translators a fair wage. Seriously, their help forums are a minefield of user complaints, if you can find the forums on that site now.
https://help.crunchyroll.com/hc/en-us/articles/4962816171412-Changes-to-Ad-Supported-Viewing-
There's more Crunchyroll news to impart. With the merger of Funimation and Crunchyroll now complete, it's obvious that there is no room for rivals on the service, and at the end of this month, many of the Sentai Filmworks licences that were on Crunchyroll, some 60 odd at the time of writing, will come off the service. Most will be accessible from Sentai's HIDIVE website, but some shows will be vanishing for good.
https://www.animenewsnetwork.com/news/2022-03-24/crunchyroll-to-remove-food-wars-akame-ga-kill-bang-dream-girls-und-panzer-no-game-no-life-more-anime/.183959
Last week I embarked on a lengthy journey. As the title hints,
Girls und Panzer das Finale 1
is the first part in the conclusion of the popular anime, a process that is only halfway completed in terms of Japanese releases at this point. This spring, MVM are releasing the first two movies of six, of Girls und Panzer das Finale, and if you've seen the TV series or the movie to this point, you'll be right at home with this instalment of 'tank battles between schoolgirls' anime show. It's has that incongruity of girls in sailor uniforms driving massive tanks around a battlefield, but this show is so full of energy and joie de vivre, that it's impossible not to enjoy it. The girls of Ooarai Academy find a new reason to enter a tank battle tournament. Click on the review to read more.
This Week I've Been Mostly Rewatching...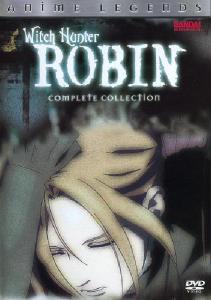 Witch Hunter Robin. They don't make them like they used to. That's a cliché older than the hills at this point. No doubt someone is saying, "They don't make clichés like they used to" at this point, but I digress. It's really true about Witch Hunter Robin. This is a show from that era when I was getting into anime, and if you watch it, you'll be shocked at the absence of high pitched, cute girls, the absence of hapless teen males, the lack of yuri fan service, and no one getting lost in another world. It's a trope free zone. This was the era of shows like Ghost in the Shell Stand Alone Complex, Wolf's Rain, Cowboy Bebop, Planetes, basically shows made for non-juveniles, written by people who didn't have a handbook of tropes to rely on, animated by people that didn't go to animator school to learn how to make boobs bounce.
Witch Hunter Robin is set in a world where people with special powers, telekinesis and telepathy exist, and have long been considered as 'witches'. In history they were persecuted, but now, a group called the STN-J only hunt them when they prove dangerous to people around them. Robin is a young girl with the ability to create and manipulate fire, who joins the STN-J as a hunter, using her abilities to protect. But things aren't as they seem in this organisation, and she uncovers a dangerous conspiracy.
Witch Hunter Robin was originally released in the UK by Beez Entertainment, but I opted for the Region 1 release from Bandai Entertainment. Both companies went from single volume releases to collector's editions.
Here's my review of the Bandai Collection
. Neither this nor the Beez release is available, but in 2018, Funimation rescued the show and re-released it on DVD, although unlike some Bandai rescues, it didn't get a Blu-ray upscale. That Funimation release is still available to buy if you can play region 1. It does ditch the extras though. Witch Hunter Robin can be slow, dark, and has one or two issues with its storytelling, but it's well worth a look if you want a change from the usual anime grind.
MVM will release Girls und Panzer das Finale 1 on Blu-ray on April 11th.