Anime Review Roundup
I may as well just link to the Anime News Network this week, as all my choice headlines come from there.
Children of the Sun, Now your time has just begun… again
Earlier this year, I had the privilege of reviewing
The Mysterious Cities of Gold
for this site, a classic series from my childhood that has found new lease of life on DVD, bringing the adventures of three young children in the New World to a new generation. In the extras of the boxset, creator Jean Chalopin tantalisingly hinted at a continuation for the animation, and it now seems as if those hints are about to materialise into a concrete promise. Three 26-episode seasons will be released beginning in 2011, although there is no mention of whether it will be a French Japanese co-production like the original show. News linked
here
.
The Tower of Druaga beckons once more
The free and legal online anime revolution kicked off earlier this year with the debut of the Gonzo show, The Tower of Druaga: The Aegis Of Uruk. It was an entertaining RPG comedy that was annoyingly short at just 13 episodes, and it also left us hanging at the edge of a cliff. The story will continue in January with the sequel series,
The Sword of Uruk
, and Gonzo have unleashed the promo trailer for all to see
here
.
Naruto goes online, Crunchyroll becomes respectable
It's probably the most fansubbed series around, the popularity of the orange clad ninja leads to the sort of online traffic that major studios would envy, if they could get money out of it. Well, fansubbers will have to find something else to do, as come January 2009, TV Tokyo will be streaming Naruto worldwide on Crunchyroll for subscribers, just one hour after broadcast, while those who are willing to wait seven day will be able to see it for free. That announcement came mere hours after Viz Media, Joost and Hulu announced that they would also be streaming the show for US viewers. January 2009 also sees the former bad boys of online anime take the final step towards full respectability. From the 8th of that month, Crunchyroll will cease to accept user submitted videos of any form, and will only host videos approved by copyright holders. Read more
here
.
Anime fails to get nominated for the 2009 Oscars
Yes, I'm being pessimistic, but ever since Miyazaki picked up that statuette for Spirited Away, anime fans have been expecting big things each year from each new batch of feature films. But that was just a fluke, one of those belated recognitions of genius long after the fact that the Oscars always wheel out. When it comes to recognition of animation in the US, it's got to be 3D, CG and full of gags. Masahiro Ando's Sword Of The Stranger and Mamoru Oshii's Sky Crawlers are competing to get onto the short list for next year's Oscars. What's the point? Wall-E is going to win. Read the non-news
here
.
Rumbles in Japan, and it's not Godzilla
Everything it seems, even anime is being credit crunched right now, so it's inevitable that the industry will continue to be shaken up as financing gets squeezed and wallets shrink. Gonzo is tightening its belt and shedding extra weight. What that means is that from next year they will
produce four animations instead of eight
. In an ideal world that would mean losing four series of dross and keeping the decent stuff in production, but experience has taught me that the real world never works that way. When the repercussions finally get here, it will probably most affect MVM, who usually release Gonzo titles in the UK, but you'll have to wait until around 2011 for the effects of that tsunami. Also in Japan, Dentsu who previously owned anime producers Geneon, have transferred ownership of the company to
Universal Pictures International Entertainment
, who will merge the company with Universal Pictures Japan. As for what this development means, I haven't the foggiest.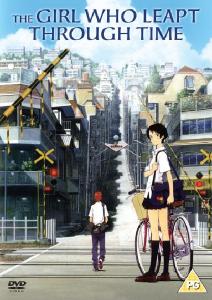 Another slow week review wise, but I kicked things off with a peach of a film. In fact, you should shift this window to one side, open up a new one with your online retailer of choice, and put in the preorder, before coming back to finish reading this column. It's that good.
The Girl Who Leapt Through Time
is an anime that pretty much gives you what the title promises, but the animation is sublime, the characters are wonderful, and the story hits all the right emotional notes. And if you go to HMV, you'll be able to get their exclusive two-disc special edition. Read the review if you don't believe me.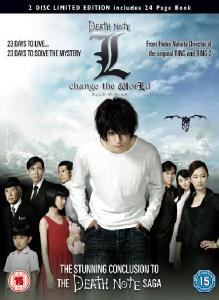 If only the week had ended on as positive a note as it began on. I have been following the Death Note phenomenon in all its incarnations as its tidal wave of notoriety has washed over the UK during the last year. It's such a simple concept, a notebook that means death to whoever's name is written in it, falling into the wrong hands. I've enjoyed the manga, been enthralled by the anime, and when it came to the live action films, I was surprised at how robust and impressive the adaptations were. The first film was pretty close to the original story, but at the end veered off in another direction, while the sequel was arguably even better than the manga and anime that inspired it. It all looked done and dusted with the two films, but then someone realised that there was still life left in the old cash cow, and this year a third live action Death Note film called
L: change the WorLd
was released. Oh well…
Manga Entertainment releases The Girl Who Leapt Through Time on the 8th of December, and I urge you not to miss this transcendent film. 4Digital Asia unleashes L: change the WorLd on the 29th, and you can miss it if you want.