LG W53 Smart Series - W2353V
Full HD 1080p 23" Widescreen LCD Monitor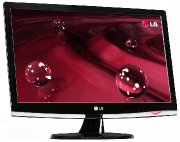 Retail Price:
£217.35
Release Date:
01/05/2009
Hardware Category: Monitor

Description:
LG Electronics' latest HD widescreen LCD monitors are the W53 series. To enhance the overall viewing experience, the series boasts automatic brightness control technology, which helps to reduce eyestrain during extended use.

LG's Auto Brightness feature automatically optimises the picture settings and the brightness of the screen based on the light in the room and the content being viewed. By lowering the intensity of the backlight, this feature also reduces the W53's power consumption, making it a more energy efficient option. To further avoid eyestrain, it also includes a timer that reminds users to take a break from their work at predetermined intervals.

"LG has conducted extensive research around monitor usage in Europe and found one of the main complaints people had was eyestrain, caused by the screen being either too bright or too dark," says Soyeon Shin, marketing manager, LG Electronics Business Solutions Company. "To address this, LG has incorporated the world's first full suite of features that optimises the brightness of the screen in its new W53 series, ultimately reducing eyestrain."

The W53 series' Cinema Mode feature enables users to eliminate distractions often found when watching online videos, such as pop up adverts, by blacking out everything except for the video clip. In addition, a proximity sensor under the monitor's bezel detects when a hand approaches the screen and activates lights to make buttons easy to find. When not in use, the lights disappear, giving the monitor a sleeker, cleaner look.

Screen sizes for the W53 series range from 18.5" to 27" and all monitors larger than 21.5" offer a 1920 x 1080 full HD resolution and a 16:9 aspect ratio, ideal for watching HD movies and games. The monitors also boast a Digital Fine Contrast (DFC) ratio of up to 50,000:1 and a response time of as quick as 2ms.
Technical Specifications:
1920 x 1080 full HD resolution
Digital Fine Contrast (DFC) ratio 50,000:1
2ms response time
HDMI in
DVI in
VGA in
Hardware Requirements:

Software Requirements: