Monitor at the BFI
Monitor
In 1958 the
BBC
launched
Monitor
, which
grew
to be
one of the most groundbreaking television shows of the 50s and 60s. It was the channel's flagship arts documentary series and proved that challenging, intellectual ideas - previously the domain of the senior service, radio, - could find a home on television. This month
BFI Southbank
invites you to watch an expertly compiled selection of highlights from
Monitor
.
In 1955 BBC TV revived the radio format
Brains Trust
, in which a team of intellectuals would discuss various themes suggested by audience questions. The show was broadcast on radio a few days later and radio bosses were so pleased with the arrangement that they suggested replicating it with another radio format
The Critics
, in which a team of critics looked at the arts. However those in TV argued that if television was to get an Arts programme it should be visual, playing to the strengths of the newer medium.
Huw Weldon
was brought in to present (and run) such a show and the result was
Monitor
.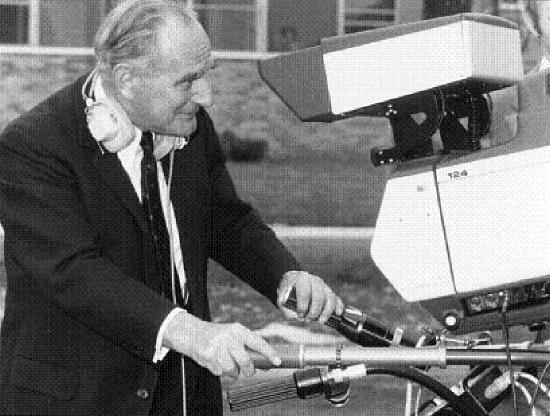 Weldon, who had been Welsh Director of the Arts Council and later in charge of all the Arts Council activities associated with the Festival of Britain, was a perfect choice. Soon he had surrounded himself with a talented team of directors - including
John Schlesinger
and
Ken Russell
-whose work was assembled by the brilliant film editor
Allan Tyrer
. Later,
Humphrey Burton
and
Melvyn Bragg
also became part of the
Monitor
team.
Monitor
usually featured three or four unrelated films in each edition and happily many of these films have survived for posterity. In this small season we will screen some of the best surviving items in four themed batches;
Monitor Interviews the Artist
,
Monitor on Film, Monitor: Humorists, Novelists and Angry Young Men
and
Monitor Miscellany
that will include films featuring appearances from, amongst others,
PG Woodhouse
,
Andy Warhol
,
Spike Milligan
and
John Betjeman
.
Monitor Interviews the Artist
c90min
One of the most fascinating and valuable strands within the
Monitor
archive is the interviews with, and films about, living artists. Here we present a few of those highly original portraits including sculptors
Julius Epstein
(from 1958) and
Henry Moore
(from 1960), and artists
Max Ernst
(from 1961),
Marcel Duchamp
(from 1962),
Rene Magritte
(from 1965) and
enfant terrible
Andy Warhol
(also from 1965).
Thu 9 April 18:20 NFT2
Monitor on Film
c90min
In this round-up of some of
Monitor
's examinations of the world of film we feature a hand-picked selection of reports and interviews, including a look at the Cannes Film Festival (1958); interviews with directors
Orson Welles
(1960) and
Alfred Hitchcock
(1964) about their unique styles; actor
Rod Steiger
on 'The Method' (1960) and an interview with
Peter O'Toole
on the set of
Lawrence of Arabia
(1962).
Thu 23 April 18:20 NFT2
Monitor: Humorists, Novelists and Angry Young Men
c90min
A rare collection of idiosyncratic talents. Three years after their first film with him,
Portrait of a Goon
, (shown recently in our Ken Russell season)
Monitor
revisited
Spike Milligan
(1962);
David Wheeler
interviews
P G Wodehouse
at his New York home (1960);
Evelyn Waugh
reflects on life at 60 (1964),
Kenneth Tynan
,
Colin Wilson
and
John Wain
(among others) discuss
Angry Young Men - Cult or Myth
(1958) and from the very first
Monitor
,
Kingsley Amis
patiently explains that he is not Lucky Jim (1958)
Mon 20 April 18:15 NFT2
Monitor Miscellany
c90min
Monitor
had many moods and styles and in this miscellany of its most diverse moments we feature an elegiac look at Brighton Pier (1958); the (then) current craze with guitar music (1959);
John Betjeman
reminiscing on the great exhibitions of the past (1960);
London Moods
a musical look at the capital's many forms of transport (1961);
The Lonely Shore
a fantasy in which archaeologists from the future try to build up a picture of modern day life (1962) and haunting music as
Lotte Lenya Sings Kurt Weill
(1961).
Wed 15 April 20:40 NFT 2
NB -
Individual content reliant on availability of material and some slight changes may be made.