Hannspree unveils its new All-in-One Android Touch Screen Monitor
Global consumer electronics manufacturer Hannspree is pleased to announce the launch of its new HannsG All-in-One Android Monitor. Providing casual PC users with a low cost, space saving all-in-one Android powered solution the HannsG All-in-One Android Monitor combines the touch screen tablet experience with BIG screen computing.
The All-in-One Android Monitor (CT23BH0B) is designed to replace the conventional PC for those that enjoy the hands on interface of the Tablet PC but would prefer a large display to fully appreciate the ever evolving application ecosystem i.e. play games, read the latest news, do business and share multimedia… all in big screen glory. In addition, the All-in-One Android Monitor lends itself perfectly for vertical applications such as interactive kiosks in schools, hotels and shopping centers – especially if they have their own Android compatible app available for in-store browsing.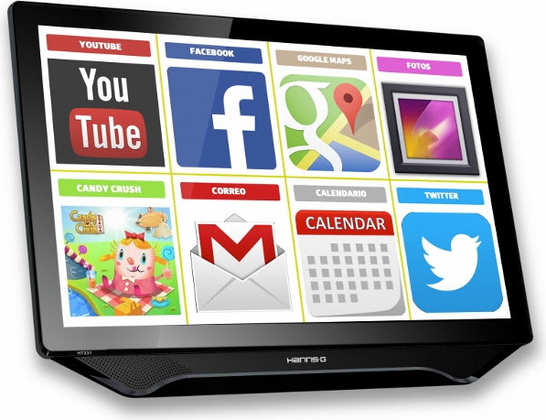 The HannsG All-in-One Android Monitor transforms the standard PC display into an interactive entertainment and business centre by marrying HannsG's Windows 8 certified 23" touch screen monitor to a new smart Android box featuring the Android 4.4 (KitKat) OS…
The new home Android computing solution features a 23" Full HD LED display and boasts the ultimate touch experience with highly responsive 10 point touch control technology enabling users to fully appreciate fingertip screen control at its best. Users can manipulate content with pinch, zoom, rotate or scroll commands with no lag and perfect accuracy. Thanks to a 1080p resolution the All-in-one Android Monitor display is the perfect host for the most demanding applications, even those that require professional monitor performance, producing stunning clarity of content and striking, vibrant colours.
With access to many of the available app markets, including the Google Play Store, users can enjoy the freedom to download countless applications thus tailoring their touch experience to suit their personal preferences in just a few simple steps. The All-in-One Monitor's customized user friendly interface makes browsing the web and organizing application widgets intuitive and simple, and also provides quick and easy access to localized popular apps which are suggested and kept up to date by Hannspree OTA.
Powered by a 1.6GHz Quad-Core processor and 1GB RAM, the All-in-One Android Monitor delivers outstanding performance for daily tasks as well as boasting multi-tasking capabilities, allowing super quick task transitions without data loss. There is also 8GB of internal storage and a Micro SD memory slot to expand the internal memory up to an additional 32GB, and HDMI connectivity to create a multimedia centre. The All-in-One Android Monitor also boasts state-of-the-art Miracast Technology so that users can project to and from other devices supporting Miracast i.e. Tablet PCs and modern TVs - a fantastic way to share with others in real-time.
With integrated WiFi, the All-in-One Monitor provides flexible internet access without the need for additional cables, and Bluetooth on-board enables partnering with other Bluetooth enabled devices such as wireless keyboards, or mobile phones for quick and simple transfer of photos etc.
In addition, the 23" display has a full connectivity line up including HDMI, DVI and VGA on board so it can also be utilized as an external monitor by hooking up a Laptop, Blu-Ray player, Games Console or Windows 8 PC.
The HannsG All-in-One Android Monitor is both practical and stylish. The design has been cleverly constructed to fully appreciate the touch screen capabilities, including a robust stand that enables the display to be used in various ergonomic positions. Users can tilt the monitor so that it is almost plush to a flat surface whilst withstanding the downward force of touch actions or of course can hold in an upright position for more serious work. It also offers VESA mount support which can be used to wall mount for an eye level touch experience. The display houses the internal stereo speakers completing this All-in-One package to 'Touch Android To Life'.
The new HannsG All-in-One Android Monitor by Hannspree RRP £249.00 is supplied with a 2 year warranty as standard.
All-in-One Android Monitor (CT23H0B)
Display: 23" 10-Point Touch LED
Operating System: Android 4.4
CPU: Quad Core 1.6GHz
Memory: 1GB RAM
Storage: 8GB NAND Flash
WiFi: Wireless LAN 802.11b/g/n
Bluetooth: 2.1+EDR
Monitor Active Contrast: 80,000,000:1
Monitor Resolution: 1920 x 1080 (16:9)
Monitor Viewing Angles: H/V 170°/160°
Monitor Inputs: VGA, HDMI, DVI (HDCP)
Android Box I/O Ports: Micro-SD Card Slot (supports up to 32GB external storage), USB (Host), Micro USB 2.0 (OTG), Ethernet, HDMI
Built-in Stereo Speakers
Stand: Tilt -10°~60°
VESA Mounting 100 x 100mm
2 Year Warranty