Review of Laura
Introduction
This film is judged to be a classic by the great and the good. As such it is deemed to be so well known that the PR people sent the extras only to be reviewed. Thus I`m having to approach this from and extras only point of view.
The story of Laura starts as a murder enquiry when Detective Mark McPherson (Dana Andrews) is called in to investigate the murder of a young girl called Laura (Gene Tierney). He falls in love with her portrait and in the course of the investigation meets her fiancé Shelby Carpenter (Vincent Price) and her mentor Waldo Lydecker (Clifton Webb).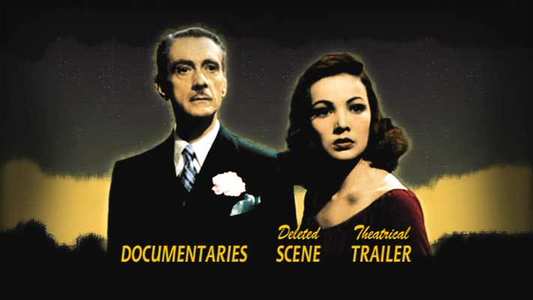 Video
I can only comment on the extras disc which is well produced. The documentaries are made for TV and not of cinematic quality but they are perfectly adequate.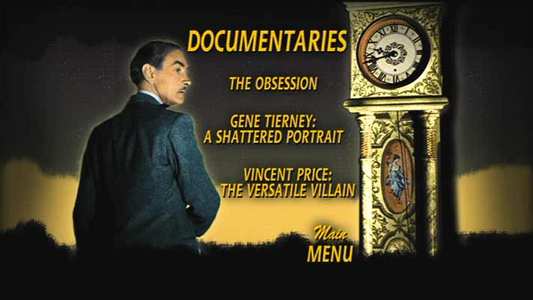 Audio
Again I can only comment on the extras disc which is fine. The soundtrack to Laura is very well known and later became a hit single when a lyric was added.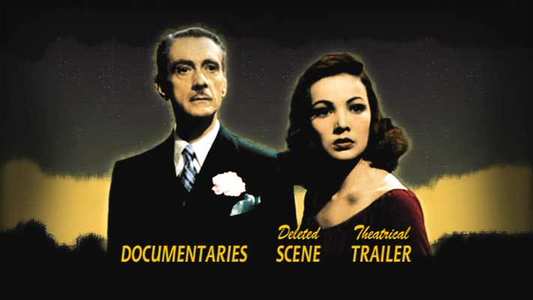 Features
This is a 2-disc set packaged in a pretty case-apparently I haven`t seen one in the shops so I assume it is a classy package.
On Disc One
Audio Commentary by Composer David Raksin and Jeanine Basinger.
Audio Commentary by Film Historian Rudy Behlmer.
Extended Scene.
I`m sure these are of a very high standard. Unfortunately I couldn`t possibly comment.
There are three documentaries on the second disc of the set.
Documentary - `The Obsession`.
A short documentary about the film-hmmm, pity I couldn`t see the film as well.
Biography Channel -Gene Tierney: A Shattered Portrait
This is a warts and all portrait of the late Tierney. She had a difficult life despite coming originally from great wealth and privilege. Her married life was blighted by a husband who had a roving eye and she had a seriously disabled child after encountering a servicewoman with German measles. She battled with depression and her acting career was probably less fulfilled than it could have been. Indeed her life is more complex than many soap plots and having taken up smoking to make her voice deeper as a young film start she reaped the rewards by dying from the effects of emphysema.
Biography Channel -Vincent Price: The Versatile Villain.
Better know for his portrayal in a series of horror films this is a comprehensive look at this extremely talented actor. He was well educated and began his stage career in London playing Albert Prince Consort. He quickly made his Broadway debut against Helen Hayes and so began a long career. He was often dissatisfied with the lightweight roles he was offered and was much intrigued by the notion of playing a villain. Because of his restless nature, it seems it was almost by accident that Price became famous for a playing a dark anti-hero. His private life took in three marriages and two children. He was most famous late in life for narrating the rap to the Michael Jackson billion-seller-Thriller but also managed to fit in a bittersweet turn as the inventor in Edward Scissorhands.
The documentary includes several clips from the many films which led me to question how many might be available on DVD. Oh no that way Debtors` Prison lies…
There`s also a Theatrical Trailer- a rather tatty print of the original trailer.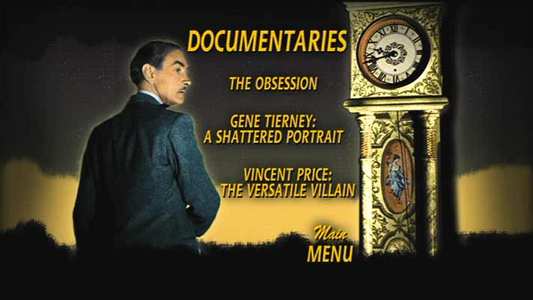 Conclusion
Laura is a classic film noir which has undoubtedly been given the classic treatment-alas I can`t comment on that.
The extras disc is a mini treat and it looks like I might have to go buy the actual set because the desire to see Laura again is almost overwhelming. This kind of film has so many layers it makes me despair of much of what comes out of Hollywood and elsewhere these days But let us not forget this was produced at a time when people when to the cinema three to four times a week. They must have sat through far more dross than we have to these days. After all the internet warns us over even the most hyped up film in 2006 and we can wait to buy or rent on DVD if we are wary of parting with our cash. This one is definitely worth a purchase.
It has received loving treatment and I`m sure the commentaries will be as fulfilling as the ones with "All About Eve".
Go get it-you know you want to!
The numbers below are slightly meaningless as I cannot comment on the film apart from my memory-which says it is a 10-I`ll probably have to go and buy it now to prove it.