Lion King II: Simba`s Pride (UK)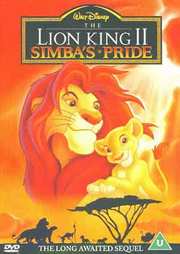 The long awaited sequel
Certificate: U
Running Time: 78 mins
Retail Price: £19.99
Release Date:
Content Type: Movie
Synopsis:
All the power and majesty of animation`s greatest achievement - Disney`s Academy Award winning film, `The Lion King` - return for `The Lion King II: Simba`s Pride`. From the hilarious humour of Timon and Pumbaa to the magnificent, adventure-packed world of the Serengeti, the circle of life continues with an incredible all-new story.

Kiara, Simba`s playfully headstrong daughter and heir to the Pride Lands, is on the prowl for adventure. Escaping her bumbling baby-sitters Timon and Pumbaa, Kiara runs off to the Outlands, which are strictly off limits. There she meets the mischievous Kovu - a young cub chosen to walk in Scar`s paw prints. The rift between the Outlanders and Simba`s Pride deepens as Kiara and Kovu`s feelings for each other grow. But will love find a way to bring their very different worlds together as one?

An all-star cast returns, including Matthew Broderick (Simba), Nathan Lane (Timon), Ernie Sabella (Pumbaa) and Robert Guillame (Rafiki), along with stunning Disney animations and five spectacular new songs, to offer breathtaking entertainment for everyone.
Special Features:
Interactive Menus
Scene Access

Video Tracks:
Standard 1.33:1

Audio Tracks:
Dolby Digital 5.1 English
Dolby Digital 5.1 French
Dolby Digital 5.1 Italian
Dolby Digital Surround 2.0 Dutch
Dolby Digital Surround 2.0 Hungarian
Dolby Digital Surround 2.0 Polish
Dolby Digital Surround 2.0 Hebrew

Subtitle Tracks:
English
Dutch

Directed By:
Darrell Rooney
Rob LaDuca

Written By:
Jenny Wingfield
Linda Voorhees
Robert Schooley
Bob Roth
Gregory Poirier
Bill Motz
Mark McCorkle
Cindy Marcus
Flip Kobler
Jonathan Cuba

Starring:
Moira Kelly
James Earl Jones
Robert Guillaume
Andy Dick
Neve Campbell
Matthew Broderick

Soundtrack By:
Nick Glennie-Smith

Editor:
Peter Lonsdale

Producer:
Jeannine Roussel

Distributor:
Disney Pictures