Infernal Affairs (UK)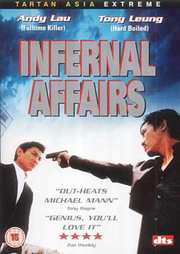 A stylish benchmark for modern thrillers and broke all-time box office records in Hong Kong
Certificate: 15
Running Time: 101 mins
Retail Price: £19.99
Release Date:
Content Type: Movie
Synopsis:
Ming (Andy Lau) and Yan (Tony Leung) lead parallel lives: Ming is a Triad mole in the police department; Yan is a police stooge in mob boss Sam`s (Eric Tsang) Triad gang. Both men have a desire to put their false lives behind them and take up their rightful places in a society that eludes them. One night, during a police raid to bring down Sam`s mob empire, the two men`s paths finally cross. Both the police and the mob soon realise that there is a mole amongst them, and a deadly game of cat and mouse ensues.

In this race against time nobody is safe, and the lives of everyone involved becomes threatened. In the meantime, Superintendant Wong (Anthony Wong) does his best to keep Tan`s secret safe, but how long can the men`s hidden lives remain undiscovered? The first in an explosive and internationally praised trilogy, Infernal Affairs sets a stylish benchmark for modern thrillers and broke all-time box office records in Hong Kong.
Special Features:
Alternate ending. Director`s commentary. Original theatrical trailer. Confidential Files. Behind the scenes. Outtakes reel. 4 page booklet with John Millar film notes. Asia Extreme trailer reel.

Video Tracks:
Widescreen Anamorphic 2.35:1

Audio Tracks:
Dolby Digital 5.1 English
DTS 5.1 English
Dolby Digital 5.1 Cantonese

Subtitle Tracks:
English

Directed By:
Siu Fai Mak
Wai Keung Lau

Written By:
Siu Fai Mak
Felix Chong

Starring:
Kelly Chen
Eric Tsang
Anthony Wong Chau-Sang
Tony Leung Chiu Wai
Andy Lau

Soundtrack By:
Kwong Wing Chan

Director of Photography:
Wai Keung Lau
Yiu-Fai Lai

Editor:
Danny Pang
Ching Hei Pang

Costume Designer:
Pik Kwan Lee

Producer:
Andy Lau
Lorraine Ho
Ellen Chang

Distributor:
Tartan Video