Ride With The Devil (UK)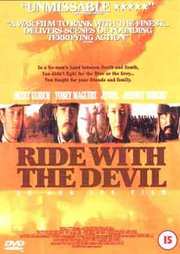 In a No-Man`s land between North and South, you fought for your friends and family
Certificate: 15
Running Time: 135 mins
Retail Price: £19.99
Release Date:
Content Type: Movie
Synopsis:
Only once in history, has the U.S. been at war with itself. In 1861, the Southern Confederacy is formed, and the American civil war ignites.

Along the Kansas/Missouri border childhood friends, Jake and Jack join up as horseman, raiding the North`s union soldiers and sympathisers. With a harsh winter looming, their unit, known as the Bushwhackers must disperse and find shelter. Several squad members hole up in a hidden hillside dugout. Their vigil is brightened only by a compassionate young widow, Sue Lee.

Then, the realities of the war intrude, splintering the group. In the intense and brutal battle, the young men reach turning points both in the fighting and in themselves.

Ride With The Devil is directed by the acclaimed director Ang Lee.
Special Features:
Interactive Menus
Scene Access
Trailer
Featurette
Behind the Scenes: 14 mins approx

Video Tracks:
Widescreen Anamorphic 1.78:1

Audio Tracks:
Dolby Digital 5.1 English

Directed By:
Ang Lee

Written By:
James Schamus
Daniel Woodrell

Starring:
James Caviezel
Jonathan Rhys-Meyers
Simon Baker
Jeffrey Wright
Jewel Kilcher
Tobey Maguire
Skeet Ulrich

Casting By:
Avy Kaufman

Soundtrack By:
Mychael Danna

Director of Photography:
Frederick Elmes

Costume Designer:
Marit Allen

Producer:
James Schamus
Ted Hope
Robert F. Colesberry
Anne Carey

Executive Producer:
David Linde

Distributor:
Entertainment In Video